Wood Pallet Ideas
Who doesn't to want to see a little change in their home's decor every once in a while? Keeping up with the great modern decor can cost you a lot, but not if you could wake up that artist inside you. Repurposing and recycling are two latest home decorating trends. Today, I'm going to share with you some really great home decorating ideas that involve wood pallets. Collect all the wood pallets that you have been thinking of throwing away because they were just covering some useful space. Lets take a quick look at wood pallet ideas and how you can use them to beautify your home's decor without spending a pile of money:
Subtle Console Table:
Image credit: Moemax
This fine console table made from wood pallet would be a perfect addition to your living room. You can paint it according to the room's decor and put it up against the wall. It's not loud, yet it makes its presence felt.
Perfect Outdoor Cocktail Bar:
Image Credit: Spoonfulofhomedesign
This DIY idea is one of my favorites. It's pretty simple. Just grab two wood pallets and screw them together. Glue landscape pavers on top of it and set it up in your lawn. You can boast about your artistic skills to your friends over a glass of wine.
Creative Pallet Sign:
Image Credit: Thecreativemom
Don't know what to hang on that idle wall because pictures and sceneries are just too mainstream? No worries! Buy different colored paints from the supermarket and grab one of the wood pallets from your store room. Sit and meditate until the Picasso in you wakes up. Make the best pallet sign for your room's wall. You can copy this idea, but it would feel more original if you make up something yourself, don't you think?
Warm Welcome Greeting:
Image Credit: Housebyhoff
How long has it been since your front door's sitting is empty? It's time to change that. A front door without a warm greeting doesn't sound very homey and cozy. Make your very own welcome greeting using wood pallet and hang it next to your front door. A simple welcome sounds just perfect, but you can create your own welcome greeting or add a quote.
Spacious Storage Table for the Patio:
Image Credit: Crateandbarrel
Make yourself your very own pirate treasure chest with wood pallets and set it up in your patio. No matter what, we are always out of space. This table will give you some extra space to store whatever want. You can put your favorite books, your knitting stuff or your desired snacks. You can paint it if you like. I prefer it, as it goes with the natural surroundings of my patio.
Spicy Arrow Signs:
Image Credit: Pinterest
Everyone has a gallery wall in their home, so it is only natural if you feel there's nothing unique about yours. Make spicy and cute arrow signs of different sizes using wood pallets and arrange them randomly in between the pictures. Trust me; it looks as if you've hired an interior designer for the idea.
Glorious Wood Pallet Lamp:
Image Credit: Houzz
This idea is one to fall in love with. Just look at the lamp, doesn't it look like a hundred dollar interior designing job? It does to me. And what does it take? Only some old wood pallets and a lot of creativity and craftsmanship on your part! Introduce new lighting solutions like these to your home's decor and you can even become a home decor expert.
Rustic Ceilings: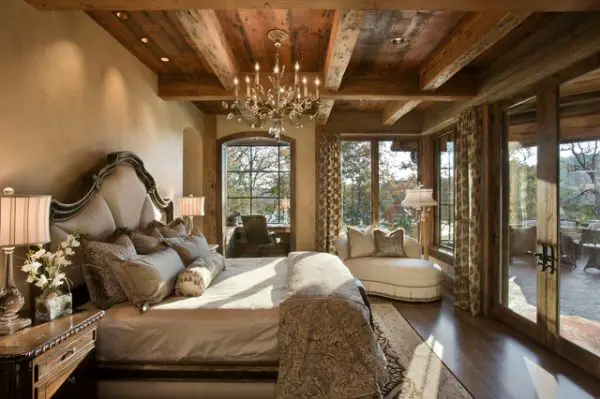 Image Credit: Houzz
You can give your room an entirely new look by changing your regular ceiling to a splendid rustic one using old wood pallets. This idea would work best with kid's room and believe me, they'll love it.
Save
Save
Save
Save