Women who look for wide width shoes know the pain that comes with shoe shopping. Choices are limited and designers usually create shoes based on a more narrow foot shape.
Wearing shoes that don't fit correctly can lead to foot issues later on. If not careful, wearing narrow shoes when you really need wide width can cause bunions, corns, or "hammer toes" which may require surgery. Purchasing shoes that fit correctly aren't just important for your daily comfort, but for your long term health as well.
8 Best Wide Width Shoes for Women
Wedge shoes are one of the most difficult shoes to find when you need to search for wide width. It's so not fair, but what can we do? Well, we did some hunting. It turns out with a little extra effort, you can find affordable women's wide width shoes this Spring at fsjshoes.
We did the digging and found 8 pairs of affordable women's wide width wedges for spring online. Cute wide width wedges are out there, you just have to do a little extra searching. Read on and discover your new Spring look!
1.  Clarks Annadel Wedge Sandal
Clarks makes quality shoes at an affordable price. They also know that there are individuals looking for cute wide width shoes! Grab their Annadel Wedge Sandals this Spring and feel comfortable while looking trendy. Pro tip: get the sandals at DSW instead of Clarks and use promo codes here and here.
This shoe gives you the option of medium to wide width, so you won't have to worry about bunched toes and blisters.
Feel flirty in a slingback strap and classic cork wedge for some extra height.
2.  Land's End Classic Wedge Sandals
For a look that will never go out of style, the Land's End Classic Wedge Sandals are a dressy way to add a heal without sacrificing comfort.
The feminine touch of these sandals make them ideal for a airy summer dress. Imagine these out on the boat!
Sophisticated for any age, these sandals could easily become a staple in your shoe closet. The sandals are frequently on sale, but if not, you can find 40% off promo codes for Land's End, or other discounts.
3.  Payless Princess Wedges
There might not be a store that understands wide width more than Payless. You can depend on Payless to offer a wide option for many of their shoes. This makes it awesome when looking at their Princess Wedges, because they are seriously cute.
This type of design is rarely found with a wide width choice, but you can get this snazzy night-out-on-the-town wedge heel shoe for cheap and in wide width. It is available in different colors, so choose them all for night and day wear!
The ankle strap is adjustable for any width as well, so you can have a little control over how tightly worn you'd like it to be.
You deserve to have comfort while dressing up! Go with these and you get both. Plus, there are frequently 15 – 20% off promo codes and other coupons available.
4.  Not Me Wedge Pump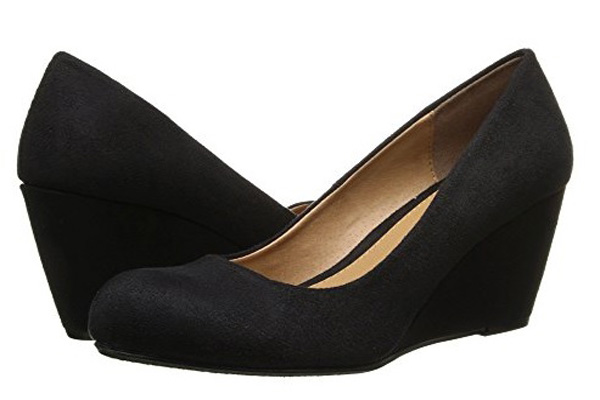 Do you have to dress up for work? Are you sick of wearing boring black flats with your pantsuit? If you feel discouraged because you need wide width shoes but can't find anything nice looking yet professional, the Not Me Wedge Pumps from Zappos (discount codes here and here) are just the shoe you're looking for!
These will complement any professional attire that includes tights, dress pants, skirts, and blazers. Add more to your outfit than your flats do. These wide width wedges are a class act and are perfect for any season. Buy them for Spring, keep them year round.
5.  Jessica London Espadrilles Wedges
Your next Spring wedges have arrived. Comfortview makes Jessica London Espadrilles Wedges that look designer but feel like your at-home slippers.
These trendy wide width wedges are going to look so fab in capris, a dress, or short-shorts. The suede-like upper looks good and feels like it should. These wedges have memory foam insoles that let you walk easy, plus Jessica London usually offers 40% off coupon codes and some other deals.
6.  Brown Laser Cut Platform Wedges
Torrid has one of the largest selections of wide width wedges for women (not to mention, they offer a ton of discount codes and coupons). Their Brown Laser Cut Platform Wedges are just one of the pairs that you'll find on their website.
This wedges will add some serious height. These comfortable, breathable wedges are great for Spring. Not to mention brown goes with everything!
7.  Livin' on the Wedge Sandal
The Livin' on the Wedge Sandal brings classy-casual to Spring wear. They're more than just a clever name. This versatile shoe will go well on a coffee date or a beachy afternoon with friends. The construction includes a soft cross strap that gives way for a wider space.
As it says in the description, "your legs will look a mile long." They can be put on easily with no zipper or buckle, making it perfect for poolside slip ons. They come in different colors and designs, so you have wiggle room for style. Remember to look for Sahalie coupon codes and other discounts, too.
8.  Arizona Laflin Wedges
Comfort meets style with the Arizona Laflin Wedges. Wear these wide width wedges with a Breton striped shirt, some white capris, or any sundress.immediately
Day or night, these shoes are a timeless way to put together an outfit for any occasion. They have a high heel look with wedge stability. You'll be prepared for a lovely Spring wedding, baby shower, birthday party, or cocktail event all in one shoe.
Spring into Comfort
No one should have to lose style over comfort. When you need a wide width shoe, you know it's a necessity. Walk blister free and look good by choosing any of these choices and have the best Spring ever!