Parenthood comes with endless positive moments. But as a mom, you can also experience a few downsides — and pain tends to be a major hindrance, especially for new mothers. How do you alleviate your discomfort? Here are seven tips to help you endure less pain.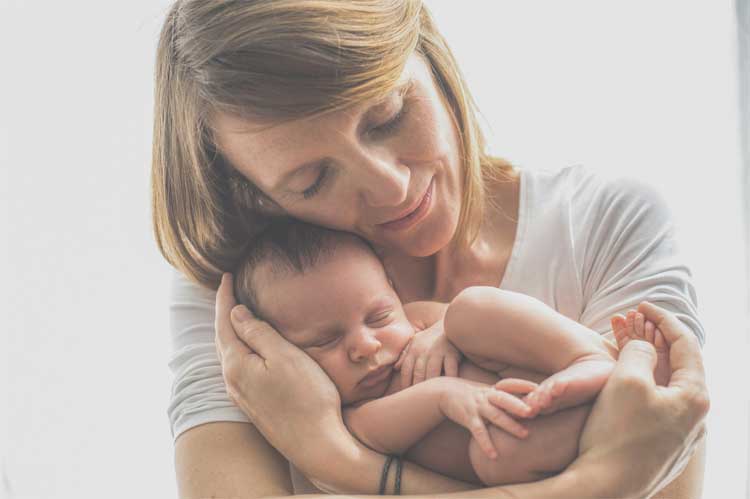 1-) Exercise Whenever Possible
If you're a new mom, you probably feel like you never have a chance to exercise. It isn't easy to find time when you have a newborn — and your body can take months to recover postpartum. But people with pain can benefit from physical activity, so you should do your best to do some light workouts throughout the week.
Try exercises that are simple yet effective, like walking with the stroller around the block. These movements will loosen up your body so you're not as stiff. It may also be smart to do a little yoga, which can stretch out your limbs. Every effort will make a difference in how you feel.
2-) Adjust Carrying Positions
It's no secret that babies are heavy! As your child grows older, you'll consistently have to carry around 15 or 20 pounds in your arms. That's the perfect recipe for pain to spring up.
Be sure to shift your baby around in your arms so you don't concentrate the weight in one area. It can be hard to remember that point, especially when you're occupied with a task, so you can always set a reminder on your phone that reminds you to adjust their position. Don't forget to set your baby down to stretch every once in a while, as well.
3-) Take Every Chance to Rest
While sleep may seem foreign as a parent, you shouldn't forgo an opportunity to rest your body. If you don't, you'll likely make your pain last longer. Ask your partner, a family member or a friend to watch the baby so you can sleep.
Keep in mind how you sleep, too. There are positions that lead to increased discomfort in certain spots on the body, like in the neck and lower back. Be sure to create the best environment possible so you have a peaceful rest.
4-) Prioritize and Practice Self-Care
Like with sleep, you want to care for yourself in other ways, too. Try to take time every week to practice self-care so you can feel relaxed and refreshed as a result. This effort might mean taking a bubble bath or a mid-day nap. If you prioritize self-care, you'll feel a lot better physically and mentally, which makes a huge difference as a mother.
5-) Buy Comfortable Gear and Furniture
There are seemingly endless products to buy when you prepare for a new baby. Because you'll use them regularly, you want to ensure whatever you pick doesn't contribute to your pain. Each item should be as comfortable as possible.
For instance, you want to choose a chair with a soft cushion so you can sit comfortably while you feed your baby. It should have back support, too. If you plan to buy a carrier wrap, you should double-check that the gear doesn't strain your neck or back. This preparation will ensure you don't wear your body down.
6-) Develop Better Posture Habits
As a mom, your posture can become progressively worse over time since you have to pick up and put down your child so often. Issues can stem from the position you sit or stand in when you feed your baby, too. These circumstances may contribute to neck and back pain in the future.
Remember to keep your back straight whenever you sit or stand. If you slouch, you put extra pressure on your body, which can increase your pain. Conduct a posture check throughout the day so you gradually adopt better habits.
7-) Consult a Chiropractor
While some moms can alleviate their pain without much trouble, you may need to visit a professional to address your concerns. It's far better to schedule an appointment with an expert than let your discomfort fester because you feel like you don't have time to see one. Remember that while your child's care matters, your health does, too.
It's a smart idea to consult a chiropractor throughout your pregnancy, as well. Then, you'll be able to prevent future pain, as your spine will be aligned in the best way possible. This care will help you prioritize your health in the most efficient manner.
Avoid Discomfort as a Mother With These Tips
While your new baby will bring endless joy to your life, you also want to think about your health throughout your journey as a mother. Many moms experience neck and back pain from the various tasks they have to perform each day. If you've noticed that your body aches, you should consider these tips to help you alleviate the strain.