This is a sponsored post written by me on behalf of Wendy's. All opinions are 100% mine.
I always love supporting great causes. One of the programs we like to support is the Dave Thomas Foundation for Adoption®. From September 14th through November 1st, Wendy's® is selling Halloween Coupon Books. for just $1. Yes.. only $1! That one dollar will help support the foundation and help children in the adoption program.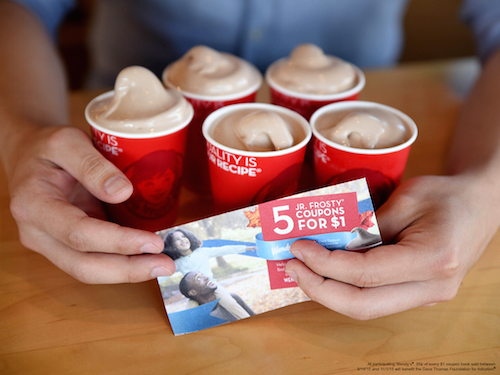 At only $1, the Halloween Coupon Books you can get coupons for 5 or 10* free Jr. Frosty coupons that will help support the, Dave Thomas Foundation for Adoption which Dave Thomas founded in 1992.
The Halloween Coupon Books are perfect for Halloween.. I love the idea that you can give out a Wendy's Halloween Coupon book instead of handing out candy!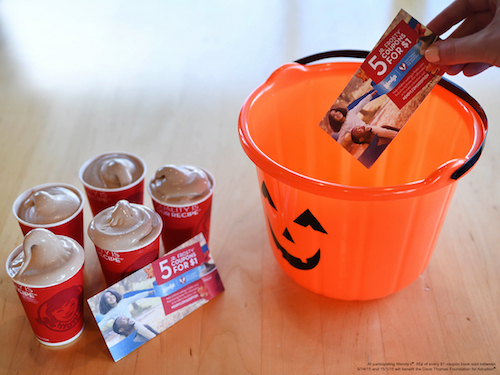 Not only will kids love the Jr. Frosty's, you'll also be helping support a great cause and help a lot of children who are in the adoption program.
More about Dave Thomas and the Dave Thomas Foundation
As an adopted child, Wendy's® founder, Dave Thomas, knew first-hand the importance of having a family. With that importance in mind, Dave started the the Dave Thomas Foundation for Adoption® foundation.
The Dave Thomas Foundation for Adoption® foundation is a great foundation that works to find permanent, loving homes for the more than 130,000 children that are waiting in North America's foster care system.
The Dave Thomas Foundation for Adoption awards grants to public and private adoption agencies to hire adoption professionals who implement proactive, child-focused recruitment programs targeted exclusively on moving America's longest-waiting children from foster care into adoptive families.
Dave Thomas also believed that children in foster care "aren't someone else's responsibility, they are our responsibility." and from the beginning, Wendy's has passionately supported the Dave Thomas Foundation for Adoption®.
So this year, instead of candy you can give these awesome Trick-or-Treaters coupons for Wendy's Frosty treats, and you'll be helping support finding forever families for children waiting in foster care.
Funds from the sales of the Halloween coupon books will go to the Dave Thomas Foundation for Adoption and will help support programs such like Wendy's Wonderful Kids.**
Wendy's Wonderful Kids is making a difference for thousands of children for adoption—one child at a time.
The children served by the Wendy's Wonderful Kids program are typically those who have been waiting the longest for an adoptive family and home.
By the time they are referred to a Wendy's Wonderful Kids recruiter, nearly 70 percent are older than age 8, 30 percent have had six or more placements, and 50 percent have been in foster care more than four years.
* The number of coupons per book vary based on location
** $0.85 cents of every dollar from the Halloween Coupon Books will go to support the Dave Thomas Foundation for Adoption.
You can check out the Wendy's adoption page to find out more about the foundation, the programs it support and more.
You can also find Wendy's on their social media accounts: