Top Wall Decor Ideas for Every Room
If you've just moved into your home, or if you just want to add some color and life to your blank walls, we have some great ideas for you! From hanging artfully designed framed pictures to tiling minimalistic canvas prints, you're bound to find something you love in this list. Keep reading to collect some innovative and fun ideas for your space.
Curate a Gallery Wall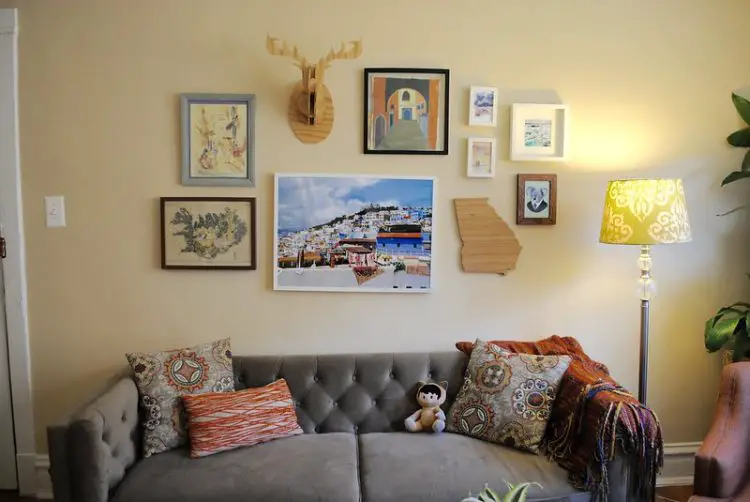 Image Source: Flickr
Add a vibrant splash to your bare wall when you pick and choose tasteful frame photos for it. You can opt to display personal photographs of the family and/or pets etc. and mix and match these with some aesthetic prints as well. The word to keep in mind is 'curate.' Make sure the arrangement of the pictures makes sense and the whole effect matches the mood you're trying to create. For example, if you're going for a minimalistic vibe, you can hang black and white or greyscale pictures in a checkerboard pattern and add some colored ones for a sharp contrast.
Plus, you can add some minimalistic wall hangings to add personality and depth to space. Think succulents, fairy lights and anything that contrasts with your minimalistic look and feel!
Create an Accent Wall
Adding decorations to the wall can definitely set a vibe, but you can also think about adding a pop of color to transform the entire wall. Create an accent wall by either painting the whole wall in one solid color or add patterned wallpaper. You can even try stenciling to add some unique patterns to space. There are plenty of interior decorators who can use decorative painting techniques and create an accent wall that matches your mood.
While you're creating your wall, you can also think about painting the ceiling! This will instantly liven up any room.
Mirror it Up
Image Source: Flickr
As you know, mirrors reflect light and therefore, they open up space significantly. Mirrors on the wall can add depth and extra space to the room, making it look brighter and bigger. You can either add one oversized mirror in a central location on the wall or mix and match several smaller pieces for a salon-style effect.
Not only will mirrors make a small room bigger, but you'll love being able to look at yourself whenever you pass the room!
Commission a Mural
Let your walls talk when you add an intricately painted mural. We don't recommend you paint this yourself unless you're a professional artist. Painting a wall on a large scale takes a lot of product, planning, and organization, not to mention experience. You should pick a motif that speaks to you and commission an artist right away.
Whether you pick a floral pattern or a themed scene, you will be transported to another place whenever you see it. You can even paint the ceiling to match. Once you've gotten your mural, try not to hang a lot of things on the wall as this will make the room look busy and cluttered.
Put a Plate on It
Image Source: Flickr
You probably take out your fine china when you have fine company over. However, there's another way that you can show off your china collection creatively. Just arrange it and hang it on a wall! There's no limit to how artfully you can hang your china plates on a wall painted in one color.
You can easily use wire hangers or some other hidden method to create an arrangement of china that looks attractive and cozy, without looking too art deco.