Luxury vinyl flooring has fast become the flooring of choice for new construction or renovation. And, choosing planks creates a handsome, durable, and easily maintained interior design.
The Family Handyman claims, "It was the fastest, easiest floor I've ever installed. And the next time we need new flooring, my vote will be for luxury vinyl."
Luxury vinyl is a tough, flexible, and durable composite thinner than ceramic tile. Available in imitation of woods and grains, customers are urged to deliberately adjoin planks from different boxes to create a natural finish.
The finished product will provide a family-friendly surface that is impressive when you have guests over for a casual evening or when they are decked out in their Azazie dresses for a wedding, prom, or other formal occasion.
Preparing the Subfloor:
If you are covering a concrete floor, start by testing for moisture. Lay a scrap in place for 72 hours, and if it pulls up easily, the concrete is too moist for vinyl flooring.
Use a level to locate high and low places, and then fill low spots with patching compound and sand the high spots and any rough edges even.
Use a wet-dry vacuum to clean away debris and dust.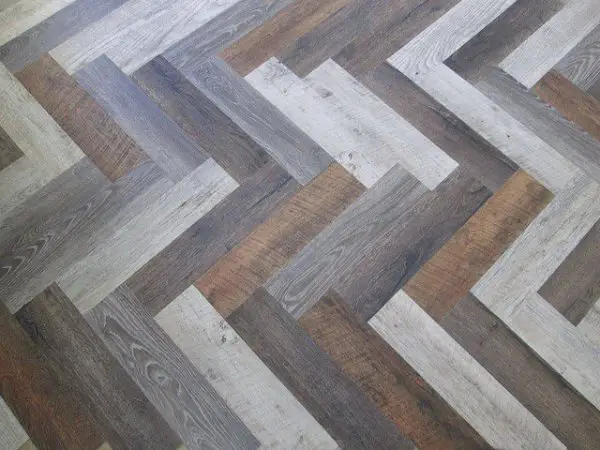 Image Source: Flickr
If you are laying over a wood subfloor, you have to create a firm base with plywood on top of the subfloor. SFGate says, "The goal is to have a wooden subfloor consisting of two layers at least 1-inch thick."
Leave a .25" gap around the subfloor to allow for expansion, and use 1" deck screws at 6" intervals to connect the layers.
Patch joins and cover screw heads with compound, and sand away any rough edges or uneven surfaces.
And, use your wet-dry vacuum to clean the subfloor thoroughly.
If you are just covering an existing vinyl floor, you start by cleaning the old vinyl thoroughly with any floor cleaner. Rinse the clean floor and let it dry well.
Vacuum away the remaining dust and debris, and the floor is ready to go.
Laying the Floor:
Before you lay the planks permanently, place them on the subfloor, selecting planks from several boxes until you are satisfied with the combination of shades and grains. It's called a "dry lay" that lets you harmonize the look.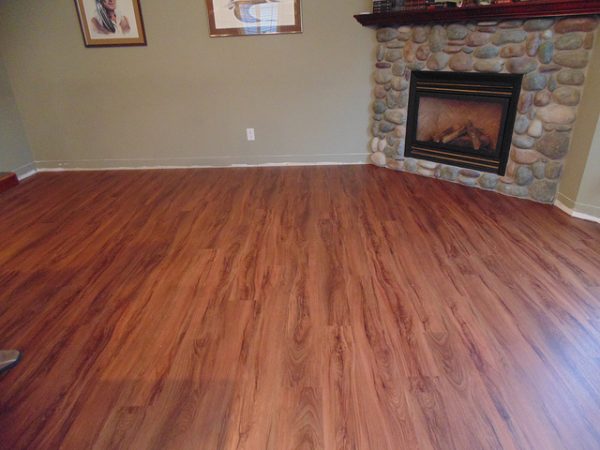 Image Source: Flickr
You begin installation from the wall, but not all walls stand true. So, measure a plank's width from the wall, and snap a chalk line from one end of the room to the other. Of the wall is not true, you scribe-cut the first row of planks to match the wall.
After drying four or five rows of the vinyl plank flooring, NJ Ferma® recommends cutting and aligning joins every 8". By offsetting the 8" pieces, you should end up at the end wall or 8" away.
Since the floor is going to "float" above the subfloor, you use spacers to allow .25" gap from the wall as you lay the first row.
When you are satisfied with measurements and confident in straight alignment, you start a second row taping each tongue and groove plank into the one on the left. Begin with an 8" piece to stagger the joint alignment.
Continue rows to other side of the room. Assuming your lines are plumb and the far wall is true, you have no problem. But, you may find it necessary to cut or trim the last row to fit the irregular wall.
Once you have your floor in place, you can add other permanent fixtures such as a stone vessel sink or an island.
Wisegeek explains, "The surface is also easy to clean, and is safe for use with virtually any type of mopping liquid, unlike hardwoods which must generally be treated with specially formulated wood soap."
So, you can lay a vinyl plank floor in a few hours, and use it on the same day. The look of expensive hardwood flooring at a much lower expense, easier to install and even easier to clean.