Here's what Mom Fuse "Mommy Reviewer" Kailani, from An Island Review, had to say about the new game releases from Ubisoft – Imagine Cheerleader & Petz Horseshow Ranch…
Thanks to Ubisoft & Mom Fuse, we had the great pleasure in reviewing two more games from Ubisoft: Imagine Cheerleader and Petz Horseshoe Ranch.
Imagine Cheerleader: Play an athletic and passionate girl who wants to make a difference in her school by becoming a cheerleader. Learn different cheers, jumps, lifts, and routines that will get the crowds pumping and inspire your teams to victory!
This was a great game for Girlie Girl since we recently signed her up to be a cheerleader at her school. There are 5 different areas where girls can peform routines via their characters either individually or through squads. There are also cheerleading competitions with some very unusual and unlikely characters. However, Girlie Girl's favorite part was being able to purchase uniforms and accessories using credits that she earned along the way. The mini-games were also a great way for her to feel like she was progressing in the game and gave her a sense of accomplishment whenever she unlocked a new area.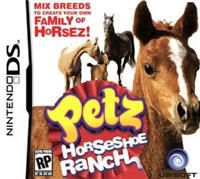 Petz Horseshoe Ranch: Raise and care for a family of horses! Adopt a horse from a variety of the most popular breeds, then customize your horse's look with tons of outfits and accessories. Raise a whole family of pets and create unique breeds. Watch them grow and develop their own unique personalities as you become the proud parent of generations of horses.
This was a great game for Girlie Girl to experience since we don't really have horses in our area. She was able to raise a horse through different stages in it's life, unlock various games and earn items for her horse like clothes, toys, accessories, and play areas. However, what she really enjoyed was the ability to travel wirelessly and visit other towns that belong to her friends. She and her friends really enjoyed checking out each other's stables and environments. It made the game that much more interactive and entertaining.
Stop by Ubisoft and check out the rest of their games in the Imagine and Petz series.
– Kailani @ An Island Review
Get Free Netflix Now
Best safe and secure cloud storage with password protection
Get Envato Elements, Prime Video, Hotstar and Netflix For Free
Best Money Earning Website 100$ Day