All moms get annoyed every now and then when it comes to kids and cleaning. It can be so much easier and faster to just do the dishes, sweep the floor, or wipe down the photo frames and mirrors yourself, but doing so will be of no benefit to you or the kids. PBS Parents explains that a child's contribution to the household is "a process, an education"; not merely an "item on a checklist".
It's up to you to give them encouragement. Be patient as they learn to contribute. Here are some tricks you can try to get them involved in more cleaning: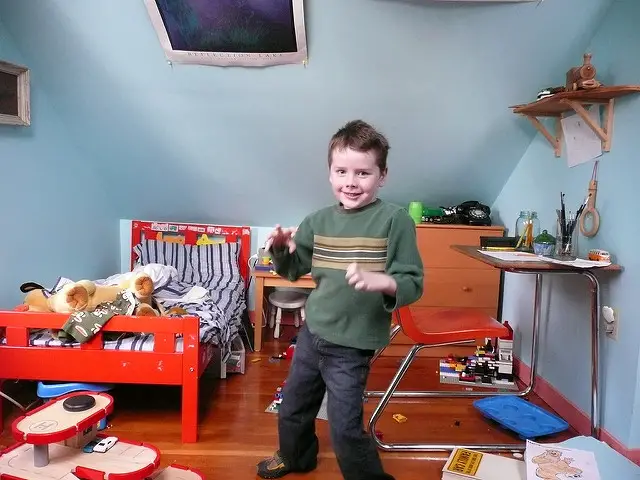 Image Source: Flickr
Think Small
Don't just look at the bigger picture. You see a cluttered playroom. They see a bunch of toys to play with. Younger kids are especially going to get distracted. Try to compromise a bit. Encourage your child to pick up one area of the room at a time, and allow breaks in between.
Establish Rules and Stick to Them
The rules must be clear. If you set a rule that no new toys are to be taken out to play with until the others have been put away, make sure the rule is communicated clearly and that everyone in the household understands. Make sure the consequences are known as well.
Make It Easy
Visual aids can really help younger kids. For instance, you could attach a sticker or image of the object that goes into each specific bin. Add a sticker of a car onto the bin in which you want the toy cars to go or an image of Barbie in the box in which the dolls should go.
Be Specific
The more specific you are, the easier it will be for them to understand what they need to do. Don't just say "clean your room" or "wash the dishes". Tell them to make their bed, prepare the dirty dishes for cleaning, gently dust off the gold picture frames in the living room, etc.
Turn It Into a Family Thing
It may be easier to establish a routine for some serious weekly or monthly cleaning. As your child grows, you can introduce him or her to more cleaning products and equipment, such as the vacuum cleaner and dishwasher. Be sure to involve everyone in the cleaning routine.
Make Them Work For the Wi-Fi Password
For teens who prefer sitting in front of the laptop or playing on the phone all day rather than doing chores, one way to get them to start being responsible is to change the Wi-Fi password on a regular basis and not let them get back on the internet until after they've done their chores. However, try not to turn chores into a negative thing. Try to stay positive and encourage them as much as possible.
Motivate Your Kids, But Don't Reward Them too Much
You want them to feel the satisfaction of simply completing work for completion's sake. That said, an occasional motivator, like a later weekend bedtime or more television time is okay here and there, but don't turn it into a habit, or they will expect something in return every time. A post on The Wall Street Journal explains that parents should "keep allowances and chores separate".
Every mom is different, so only you know which of these tricks will work for your children and which ones will not. Use your best judgement. Good luck!