Prom Dresses
Picking the perfect prom dress is an agonizing decision. It usually requires hours of poring over designs and mentally picturing yourself in various gowns before you can even come close to creating a shortlist of your favorite options. It is even more difficult when you are unsure about what to look for. To help you out, these are the top styles of 2017. Bear in mind, many are quite different from prom dresses of 2016.
Crop Tops
Image Source: Pexels
As crop tops are making an appearance in all types of outfits, it should come as no surprise that they are a favorite trend for grad dresses. If you have the type of figure that would benefit from a crop top, you should definitely go for it — after all, these are some of the sexiest dresses around.
Short Dresses
Image Source: Flickr
Whoever said that prom dresses need to be floor-length? Choose the length you feel most comfortable wearing. This year, everything from knee-length to mini is in style. For the best of both worlds, consider a high-low dress.
Floral Patterns
Flowers are making an appearance on many dresses this year, but in many different ways. In some, they come as subtle embroidery on the bodice for a delicate look. In others, the flowers are as bold as your personality, covering the entire skirt.
Sequins and Sparkles
Image Source: Pixabay
Many of the most beautiful dresses in 2017 feature at least a few sparkles. Some are completely covered in sequins, crystals, and shiny beads. If you've always liked glitter, take advantage of this recent fashion trend.
Sheer Mesh
Image Source: Flickr
If you are particularly daring, sheer mesh on a prom dress is an opportunity you cannot miss. Mesh tends to be around the neckline, on the back, or on the skirt. In any case, it allows you to show off plenty of skin, while providing you with elegance.
Ruffles
There is no way you will fail to stand out if you choose a dress with a ruffled skirt. Ruffles always appear stunning on long dresses, but this year they are also appearing on mini dresses.
Sleek Dresses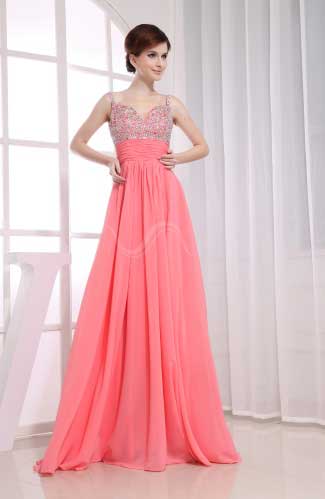 Image Source: Flickr
The complete opposite to ruffles is also in fashion: sleek grad dresses with straight skirts. This looks especially beautiful when the prom dress is made from velvet. If you are thinking about opting for a simple prom dress, remember that nothing is more sophisticated than a black prom dress with a few embellishments.
Non-Traditional Colors
Image Source: Flickr
As always, colors like red, black, white, and pearl are top choices. However, a favorite newcomer this year has to be blue. Prom dresses come in sky blue, bright blue, navy, and everything in between.
Unique Features
If you really want to make a statement, choose a dress that has something unique, like feathers, tassels, or a pleated skirt.
Before you decide that you've landed on the right prom dress, think about whether it follows the above trends. If the answer is yes, you can be sure that you'll look perfect on one of the most important nights of the year.