Moving day can be one of the most stressful of your life. You have to find some way to pack up everything you own and transport it safely to another location, where you then need to unpack it all. However, if you take a few simple steps, moving day can become a lot easier. Below are some tips you can use, especially if you're a parent, to make moving day a little easier and hopefully a little less stressful.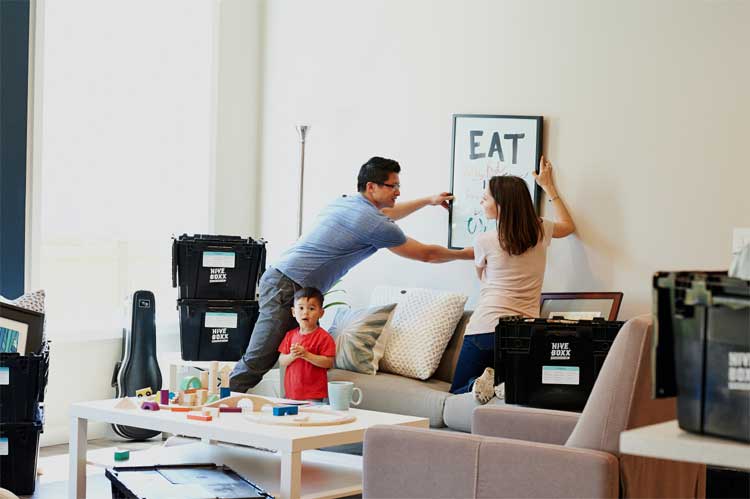 Start Planning Early
One of the most important things you can do is start planning early. There's a lot to do to prepare for a move – perhaps more than you even realize. According to Branch Out, a moving company in Raleigh, "In the time ticking down before your move, you are making one of your biggest moving day mistakes if you have not planned ahead. You should start preparing for your move early, as in weeks ahead of time." If you try to wait until the last minute, you'll quickly find yourself overwhelmed.
Start by gathering all the supplies you'll need to move. This typically means plenty of boxes, packing tape, and soft material to put inside boxes with more fragile items. As you're accumulating your supplies, also make a master list of everything you need to do. As you remember things, add them to your list. This will help to ensure you don't forget anything since you can go through the list on moving day and make sure everything is checked off.
Work with a Professional Moving Service
In most cases, you'll want to work with a professional moving service to make your moving day easier. A moving service works efficiently to safely load all of your belongings into a moving truck and unload them at your destination. This not only saves you time, but it's a lot easier on your physical well-being too. If you're not used to moving heavy boxes and furniture all day, you'll want someone to handle it for you.
Look for a professional moving service in your area. Find a few options, then start reading previous customer reviews online. Once you've narrowed down your search, you can contact each and ask them for an estimate. Use the total cost, along with their reputation and insurance level to make your final selection.
Get Rid of What You Don't Need
A great way to make moving day easier is by bringing less stuff with you. To do this, you'll want to spend some time getting rid of anything you don't need. In the weeks leading up to the move, go from room to room and sort your stuff into "keep" and "don't keep" piles. Now is the perfect time to get rid of all that junk that's piled up over the years so that you can start fresh in your new home.
Once you have your discarding pile, you need to do something with them. One option is to have a moving sale, inviting those in your neighborhood to come by and see if they want to buy anything from you. You can also donate some items, like old clothing, to charity. Your last option is to simply throw out or recycle anything you can't get rid of otherwise.
Learn How to Properly Pack
Packing is a big part of the moving process. It's important that you pack your boxes properly for a smooth moving day experience. This means not making any single box too heavy and ensuring all of them are properly sealed with tape. You don't want to lift a box, only to have everything in it come spilling out from the bottom. Make sure to use durable and high-quality packaging boxes to avoid other issues. Finally, as you're packing, label each box. Write on the box what room it came from or what room it's going into. This will make it easier for the mover to drop it off in the right space at the new home.
Make a Plan for Kids and Pets
Moving when you have kids or pets adds another stressful element to the day. Trying to juggle all of the moving tasks alongside watching over young children or a pet only makes things more stressful. If you can, find a place to drop your kids off for the day, such as with one of their friends or a relative. For pets, consider dropping them off at a daycare for the day. At the very least, put them in a room where you can close the door so that they do not get in the way of the movers.
Set Aside Essential Items
When you get to your new home, you'll need some time to unpack everything. You likely won't do this on your first night, so you'll want some essential supplies set aside. Pack away things like a change of clothes, toiletries, and some food in a separate location. Then make sure that these things don't get packed away in the moving truck by storing them in your car. This way, you have what you need for your first night in your new home and can worry about unpacking everything else over the next few days.
Prepare Your New Home in Advance
Finally, make sure your new home is ready to go before you arrive. You don't want to show up at the house and realize you don't have the keys or that the electricity isn't on. Creating a separate checklist of things you need to do to set up your new home is a good way to ensure you don't hit any snags as the moving truck pulls into the driveway.
Make Moving Day Easier
As you can see, it's not too difficult to make your moving day a little easier. All it takes is a little planning and some organization. Once you know you're moving, start the planning process so that you don't feel rushed as the date approaches. If you can implement the tips above, you should find that while moving day isn't necessarily stress free, it's not the terrible experience you thought it might be.
Get Free Netflix Now
Best safe and secure cloud storage with password protection
Get Envato Elements, Prime Video, Hotstar and Netflix For Free
Best Money Earning Website 100$ Day