Wouldn't it be nice to have a turkey emailed to you? Or maybe a peanut butter and jelly sandwich? Well, a connected kitchen might move us closer to making that a reality. Here's what you need to know.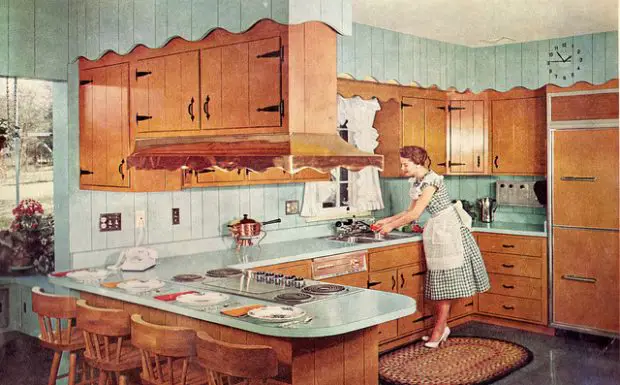 Image Source: Flickr
New Wave In Food Recognition
What does $5,000 buy? A new fridge that's smart enough to tell you what's in there. Today, manufacturers are working on refrigerators that can take pictures of its contents and then tell you what to do with them. They're also working on ways to create an inventory of sorts so that shopping is easier on consumers.
Some manufacturers want to build stoves that are smart enough to tell you what to do with the food that's cooking in there. For example, Innit has built a software platform that can identify food in your fridge, and tell you when it expires. This helps you better plan out your meals. Innit also intends to use its software to identify food in your oven and then show you how to cook it.
The June Intelligent Oven is a counter top unit that's capable of recognizing a selection of foods and then recommends a cooking time and settings for them.
It takes a lot of the guesswork out of cooking.
Education By Appliances
Smart appliances can become a tool for education, too. For example, a microwave could tell you how long it will take to melt butter or reheat last night's meal. The Pantelligent, a smart frying pan, gives users instructions on how to cook a meal, walking them through step-by-step instructions.
Other smart large appliances are expected to be able to do much, much, more.
Integration With Third Parties
Many manufacturers are also looking at the possibility of partnering with other software companies. The electronics and appliance manufacturer Samsung has created one of the first truly smart refrigerators on the market, the Samsung Family Hub Refrigerator. It lets you use the Mastercard grocery app to buy food and ingredients from the fridge.
Samsung also wants to add Instacart functionality so you can even have your groceries delivered direct from stores like Whole Foods (as long as you live in the delivery area).
Another example of smart appliances is Whirlpool's new line of dishwashers. One of them works with Amazon Dash to order detergent refills when needed. It also connects to the thermostat hardware and software app, Nest.
Practical Solutions
What's an appliance, if not practical. So often, we're tempted by technology that looks cool, but is ultimately an expensive gadget that doesn't make our lives easier or save us time. But, these new features are about to change the way we interact with our home appliances. At this point, for example, you can't do much with an oven's Wi-fi connection. The biggest benefits seem to be the ability to set cook times and turn your oven on or off with a tap.
Smart features would include an oven that lets you know your food is about to burn (before it actually does so), or when your recipe isn't right, or when the souffle you just made won't rise (before it's too late).
Other innovations might include see-through door panels for refrigerators, or microwaves that can automatically cook food for you without you having to set a timer. In fact, at least one manufacturer is working on a design that might allow consumers to simply pop the food in the microwave and turn it on. The microwave figures out what kind of food it is, how long it needs to cook, and then beeps when it's ready. Foolproof.
These kinds of solutions could make their way into new homes too. If you want to know more about these initiatives, go to HELettings.co.uk.
A Fun Design
Just because something is practical doesn't mean it can't be fun. Some technologies, like LG's door-in-door refrigerator, lets you knock to see the food inside. It's a more interactive design than just opening the door. And, it makes the whole experience fun.
Conclusion
Ultimately, what needs to happen is scale. Manufacturers need to prove the ideas work, sell them to a first round of eager buyers, and sell enough that they can lower the price on future models. They need to work out the bugs, recoup their costs, and then drive those costs down so that everyone can afford these things.
Right now, it's a tough sell. Samsung's fridge costs $5,000, which is beyond the reach of most people's budgets. And, even with financing, it's sort of like buying a very used car. Who cares if you can talk to it, knock on the door, or have it order food for you. Those monthly payments will eat into the grocery budget. Maybe there won't be any money left to restock it.
Chester Carter loves to cook, and simply must have the latest kitchen gadgets to make life a little easier. He enjoys writing restaurant reviews, recipes, and all things kitchen/food related.