Sweet sixteen is a very special moment in every girl's life. Her blossoming into a responsible adult and leaving behind the loveliness and innocence of childhood is quite bitter-sweet.
And just like the young adult, a daughter reaching this milestone age is equally important to her mother. She's able to share her experience, give valuable advice and just have a heart-to-heart.
To celebrate such an achievement, parents usually throw a sweet 16 party for their child. And if you happen to be one of the lucky moms, you're probably already making arrangements!
We also know that while the task may seem simple, it isn't that easy. You're not just looking for a wonderful theme but delicious cakes, thoughtful gifts, stunning venue and creative decor ideas.
Among these tasks is also the job of inviting everyone. Now, in the modern age, we've found short-cuts to this particular work in the form of calls and texts.
Sweet 16 Invitations Ideas
Image Source: Pxhere
However, nobody can argue the fact that an invitation sent physically on a printed card is far more welcoming. So if your goal is to have everything top-notch and you weren't already planning on it, you should definitely look for a custom printed invite.
Since we have luckily stumbled upon a marvelous site for such cards, we decided it would be really helpful to spread the word.
So here it is, the solution to all your invitation hassles; in the form of Basic Invite!
About Basic Invite:
Don't judge a website by its name! Basic Invite has much more to offer than its name!
Basic Invite was founded in 2006, and has been involved in creating, designing and printing unique invitation cards. Their modern technology and wonderful art skills allow the buyer to customize each and every element on the card.
The website also features hundreds, if not thousands of templates, from masquerade birthday invitations to weddings and galas!
Here's a few reasons to choose Basic Invite:
1.  Variety of Materials:
The biggest perk of picking Basic Invite is the number of material options. If you're tired of the plain old matte cards, they've got you covered!
When it comes to materials, you can opt for smooth coated paper, shimmering card or even a luxe velvet. These come in different shapes like round, square, bracket etc.
And if you're feeling extra, or want to send a truly unique invite, you can try the foil invitations! Foil cards can be purchased in two styles, raised and flat. They're currently available in 3 exciting shades including rose gold, silver and gold!.
Lastly, if the theme is a bit more rustic, you can also opt for quality wooden invites with white ink writing. They are also available in different templates.
2.  Customizable Colors:
If you like to play around with colors and experiment different combinations, you're making the right choice in trusting Basic Invite!
The website offers more than 180 popping colors that never fail to attract. After you've finalised a design choice, you can go on and change the color of any element!
You can also edit the text, change the dates & mix-and-match colors to your heart's content!
3.  Free Samples:
Yes, that's right! Basic Invite is one of the only sites to allow printing of free samples!
Not only can you view the changes you've made to the birthday invitations online, but Basic Invite lets you print the custom template as a sample for completely free!
This is very beneficial in deciding the kind of material, shape, color coordination and size you're looking for. You can also edit a few things to adjust your invite according to the theme!
4.  Colorful Envelopes:
Basic Invite doesn't let your cards look boring before they're opened!
The envelopes featured on this amazing site are also available in around 40 colors, from pretty pastels to luxury darks. The envelopes are also made of quality material and have the peel and seal attribute!
5.  Complementary Cards:
Sweet 16 parties generally have many guests who bring gifts and refreshments. And what better way to appreciate their gestures than handing out a thank you or greetings card!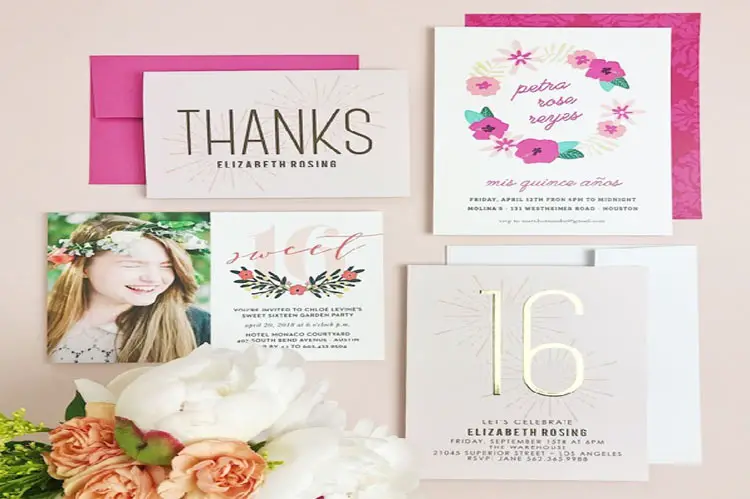 You can find matching welcome, farewell and thank-you cards on Basic Invite. These can go wonderfully with the theme & invitations sweet 16 and are a great way of expressing gratitude!
6.  Address Capturing Tech:
If you thought the other points were impressive, wait till you hear about this one!
Basic Invite offers the unique 'address capturing service', where all you're supposed to do is share the link on different social media platforms, which your friends and family can click on to submit their address.
Once they're done, this data is saved to your account. So the next time you're willing to send a custom invite, the address is a click-away!
7.  Extra Discount:
Even though their price is already low, Basic Invite is now offering 15% off on all orders with the code 15FF51. All you have to do is apply the code when proceeding to check out, and enjoy the discounted rates!