This post brought to you by Texas Pete. All opinions are 100% mine.
If you are anything like our family you probably love a good hot sauce and in the summer months you will usually find us outside cooking on the grill for most of our dinners. It's just our thing. We often have friends and neighbors stop by the days they know we're grilling (or they can smell the grill) because my husband can grill a mean steak or hamburger.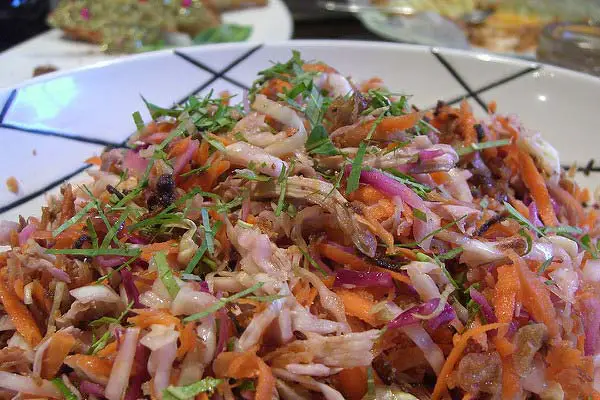 Image Source: Flickr
For many dishes though, our secret ingredient is hot sauce! Shhh.. don't tell my husband I told you!
Enter Texas Pete Hot Sauce.
We don't just think of hot sauce as a condiment, it's usually a ingredient in many of our foods. One of my favorite things to add hot sauce too is our homemade chicken salad and our taco meat. You can add more or less sauce depending on how hot you want to go with your dishes.
I have to admit, before this post I had never thought of using Texas Pete Hot Sauce when making red velvet cake icing or in coleslaw but it's definitely something I am interested in trying now so that I can see how it tastes.
If you use Texas Pete Hot Sauce as your secret ingredient or as your favorite topping I'd love to see them! You can share your Texas Pete Hot Sauce recipes on your favorite social networks with the hashtag #TexasPete and I'll see it because I'll be stalking following that hashtag from here on out!
Did you know Texas Pete offers more than just hot sauce? They also have wing sauces, Hotter hot sauce, a garlic hot sauce, CHA! by Texas Pete sriracha sauce and a green pepper sauce. Find Texas Pete Hot Sauce.
Texas Pete Zippy Tie Dye Coleslaw
Here is what you need:
1/2 head Red cabbage, shaved thin
6 Tbsp Brown sugar
3 Tbsp Red wine vinegar
1-2 Tbsp Texas Pete®Hotter Hot Sauce
1 Red bell pepper, finely julienne
1 Yellow bell pepper, finely julienne
1 Green bell pepper, finely julienne
1/2 cup Radishes, sliced thin
1/2 onion Red onion, julienne paper thin
2 carrots Carrots, fresh, grated on the large shredder
1 tsp Caraway seeds
1 tsp Celery seeds
2 Tbsp Parsley, fresh, minced
1/3 cup Mayonnaise
To taste Salt and pepper
1.     Place the thinly shaved red cabbage into a large mixing bowl. Add the brown sugar, red wine vinegar and the Texas Pete®Hotter Hot Sauce and mix well.
2.     Let this mixture marinate at room temperature for 10 minutes before adding all the remaining ingredients from the bell peppers to the mayonnaise. Season with salt and pepper and mix until all ingredients are fully incorporated and refrigerate for 2 hours before serving.
Happy grilling and heating up those dishes!