Small homes hold the secret to clever storage, with well-placed shelves and multifunctional furniture they demonstrate just how creative you can be in the tiniest of spaces. You can make every inch of your home, work to its full potential with some well thought out and space saving solutions.
With this in mind, we've searched to find the best storage solutions for small spaces. So take charge of your belongings and banish them to hidden or well-organised areas of your home.
Clothes, Shoes and Coats
Image Source: Flickr
An overflowing wardrobe that take up the majority of the space in your bedroom probably sounds familiar. Wardrobes should be used to maximum potential, not just for hanging clothes, but by filling up those empty spaces you never use inside; vacuum packing the clothes you won't be using this season and organizing them into storage boxes. You can also use this space to cleverly arrange your shoe collection instead of leaving them lying around the house. The empty space above your wardrobe can also act as a sturdy shelf for large objects such as suitcases.
Often forgotten about spaces like these are great for de-cluttering and hiding away things you won't be using for a while. If you have large amounts of stuff that you're just moving from room to room to create more space, consider putting them somewhere safe such as in the garage or shed outside, until you need them next.
Bathroom Space
Image Source: Pixino
You've finally refined your morning and bedtime health and beauty routine, but with that comes a collection of beauty products that are cluttering up your bathroom. Cabinets with multiple shelves are a great way to keep your bathroom organised. Put your most used items at the front of the shelves, so you have quick access to your daily products. Mirrors can also take up a large amount of wall space that could be used for shelving, so a cabinet with a mirror can help save space. If you have a super small bathroom, corner cabinets are useful, or adding shelves to your bathrooms walls to display your products in easy to reach places is another helpful hack.
Make Use of an Alcove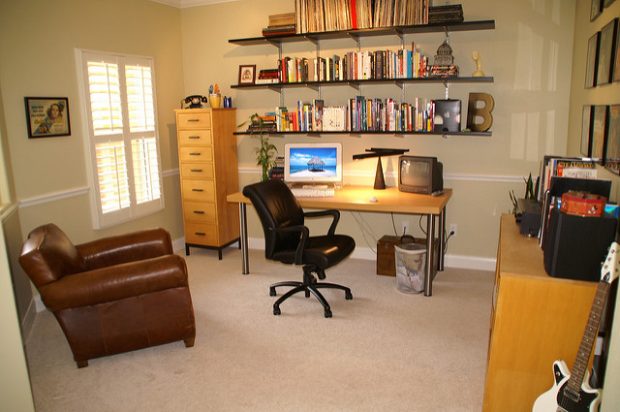 Image Source: Flickr
Do you need that little bit of extra space to get work done? Why not transform an alcove into a hideaway home office? All you need are some open shelves that work as storage boxes for your paperwork and other bits, as well as a plank of wood for your desk. Add a pair of folding or sliding doors to keep it tucked out of sights and look clutter-free.
Living Room Books, Photos and Ornaments
Image Source: Flickr
From modern, tall wooden bookcases to metal shelving units, there are many ways you can add a versatile bookcase to your living room to bring life to your storage solutions. Arrange your bookcase to show off and store your book collections – whether they're novels or cooking books, storing them in the living room can save space elsewhere in your home. Arrange them in colour order to create a vibrant and colourful wall features and turn a boring bookcase into something a little more fun.
You should never cram too much furniture into a small living room, so instead why not use storage seats and chairs? These can be easily tucked away and used as chairs when guests come over.
Kitchen Storage
Image Source: Wikimedia
Small kitchens cause havoc when it comes to cooking, there's pots and pans all over the place and it's almost impossible to find where things are. Free up your cupboard space by adding a magazine rack it can provide easier access to food supplies and give you more cupboard space.
Make good use of the tops of your cabinets too, as they're a prime space for storage. You can store special occasion serving plates here, extra pantry supplies and anything you don't use frequently. Downsizing your furniture in the kitchen is a good idea too, instead of a big dining table, why not opt for a breakfast bar or half moon table pushed against a wall? This is a smart use of space.
Give these handy storage tips a try in your house and watch it declutter in seconds!