This contest has ended, winner will be announced shortly!
And the winner is…
Cade says:
i like the C3PO
Subscriber
Congratulations Cade!!
From the "Gifts for the Hi-Tech Dad" Father's Day Gift Guide – Star Wars MIMOBOT Designer USB Flash Drive
"The distinctive character-based MIMOBOT line offers from 1GB to 8GB of flash memory storage and transport for all your finest and most precious music, docs, pics and other personal data bits and bytes. The MIMOBOT range is available in several crossover flavors, such as Star Wars, Halo, and Japan's Domo and our MIMOBOT Artist Series has functioned as a canvas for pop-artists like Gary Baseman, Jon Burgerman, and Simone Legno amongst other fresh designer toy, street art, and urban cultured talent." Mimoco.com
Continuing the wildly popular crossover between MIMOBOT and LucasFilm, Star Wars MIMOBOT® Series 3 brings a big ol' dose of Return of the Jedi goodness into the Star Wars MIMOBOT flash drive collection. The Star Wars MIMOBOT Series 3 introduces another collection of four new characters to the MIMOBOT designer USB flash drive family: Darth Sidious (AKA Emperor Palpatine), a crimson-clad Royal Guard, cute, fuzzy and somehow quite dangerous Ewok Wicket, and Goldenrod himself, the protocol-droid-cum-Ewok-deity, C-3PO. $29.95 – $64.95 at Mimoco.com
Features: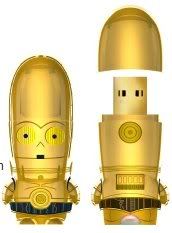 Hi-Speed USB 2.0

Mac/PC Compatible

2.5″ Tall by 1″ Wide
The Giveaway! We're giving away a 4GB C-3PO Star Wars series Mimobot, the perfect gift for any hi-tech dad and Star Wars fan! Retails for only $34.95 so while you won't get a headache when the bills come, you will be seeing "Stars".
How to Win!
You Must: Visit Mimoco and check out their huge selection of designer USB flash drives. Come back here and tell us which one is your favorite.
Extra Entries (optional)
1. Subscribe to the Mom Fuse newsletter.
2. Tweet this!
RT @NicoleMomFuse – Visit @momfuse to win a Star Wars  Mimobot Flash Drive for Dad and over 20 other manly prizes! www.momfuse.com
3. Grab our button and post it on your blog. Don't have a blog? Click here to email this page to five or more of your friends. Be sure to leave my email address in the "send" area so I can receive a copy too! If you do both (grab button & email), be sure to leave two comments for two entries.
Rules & Reminders
Contest ends 6/19 – Winner will be announced by 6/22

Comments not adhering to the rules will be deleted

This contest is open to US & Canada residents
The Mom Fuse Father's Day Gift Guide is being sponsored by got-free-ecards.com, your ultimate resource for free Ecards and greetings. Got-Free-eCards.com is easy to use and offers the widest selection of Free Printable Cards, Free Fathers Day Ecards, Free July 4th Ecards and Free Birthday Ecards.
Be sure to enter the Mom Fuse Got-Free-eCards.com Giveaway for your chance to win a $100 Amazon Gift Card!