The last few weeks we've been featuring some sneak peak recipes from Sandra Lee's new cookbook: Sandra Lee Bake Sale Cookbook which hit shelves March 29, 2011. And because my schedule hasn't been cooperating with me very easily I missed a week or so, so you're getting two sneak peaks in one!
If you missed our feature recipes last week, check those out here: Sneak Peak Recipes from Sandra Lee Bake Sale Cookbook Part 1 and Sneak Peak Recipes from Sandra Lee Bake Sale Cookbook Part 2.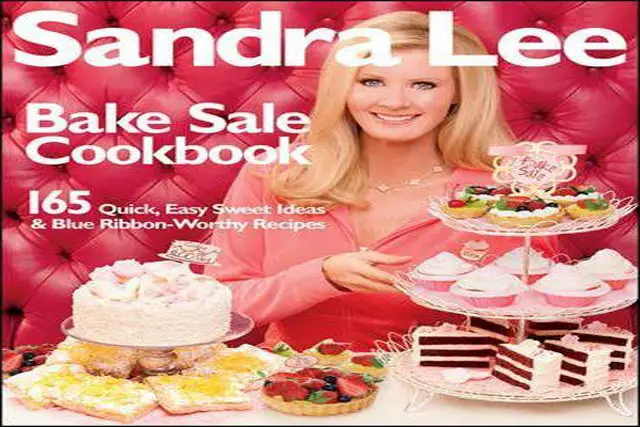 Get your very own copy of Sandra Lee Bake Sale Cookbook at Amazon today!
Black Russian Cake
Prep 25 minutes Bake 25 minutes Cool 35 minutes Oven 350°F Makes 10 servings
Nonstick cooking spray
1 package (19.5 ounces) dark chocolate cake mix,
Duncan Hines®
1 package (4-serving-size) instant chocolate pudding and pie filling mix, Jell-O®
3⁄4 cup chocolate milk, Nesquik®
1⁄2 cup vegetable oil
3 eggs
6 tablespoons cream soda
5 tablespoons strong-brewed coffee
2 teaspoons vanilla extract, McCormick®
2 containers (12 ounces each) whipped chocolate frosting, Duncan Hines®
1 bar (1.45 ounces) dark chocolate, finely grated, Hershey's® Special Dark
1. Preheat oven to 350°F. Spray two 8-inch round cake pans with cooking spray; set aside.
2. In a large mixing bowl, combine cake mix and pudding mix. Add chocolate milk, oil, eggs, cream soda, 1 tablespoon of the coffee, and vanilla extract. Beat with an electric mixer on low for 30 seconds. Scrape down side of bowl; beat on medium for 2 minutes more. Pour batter into prepared pans.
3. Bake for 25 to 30 minutes or until a toothpick inserted near centers comes out clean. Cool in pans on a wire rack for 10 minutes; remove from pans. Cool completely on wire rack.
4. In a medium bowl, stir together the remaining 1⁄4 cup coffee and the frosting.
5. To assemble, place a cake layer on a serving plate. Spread with 1⁄2 cup of the frosting mixture; top with the second cake layer.
Frost side and top with the remaining frosting. Lightly press grated chocolate onto side of cake.
Savory Cheese Palmiers
Cook Time: 20 minutes, Yield: 12 servings
6 tablespoons grated parmesan cheese, divided
1/2 box (17.3-ounce) frozen puff pastry, thawed (recommended: Pepperidge Farms)
1 egg, lightly beaten
1 tablespoon water
1/4 cup shredded Italian cheese blend
1 teaspoon paprika
1. Sprinkle work surface with grated Parmesan cheese. Unfold a thawed sheet of puff pastry on top of cheese. Brush pastry with egg wash made from 1 egg beaten with 1 tablespoon water.
2. Combine 2 tablespoons Parmesan cheese, 1⁄4 cup shredded Italian cheese blend, and 1 teaspoon paprika. Sprinkle over surface. Press into pastry.
3. Fold top and bottom edge of pastry to center. Fold pastry in half from left to right. Fold in half top to bottom. Cover and refrigerate 30 minutes.
4. Cut 1⁄8-inch-thick slices, starting at shortest edge. Dip flat faces of Palmiers in Parmesan; lay on baking sheet.
5. Bake in a 400°F oven for 20 minutes

Root Beer Cupcakes
Prep 30 minutes Bake 18 minutes, Cool 30 minutes Oven 350°F, Makes 24 cupcakes
1 package (18.25 ounces) devil's food cake mix, Duncan Hines®
11⁄3 cups root beer, A&W®
1⁄2 cup vegetable oil
3 eggs
1 can (12 ounces) whipped fluffy white frosting, Duncan Hines®
1 teaspoon root beer concentrate,* McCormick®
Root beer-flavor candy, crushed (optional), A&W®
24 straws (optional)
1. Preheat oven to 350°F. Line twenty-four 21⁄2-inch muffin cups with paper bake cups; set aside.
2. In a large mixing bowl, beat together cake mix, root beer, oil, and eggs with an electric mixer on low for 30 seconds. Scrape down side of bowl; beat for 2 minutes on medium. Spoon batter into prepared muffin cups, filling each about two-thirds full.
3. Bake for 18 to 22 minutes or until a toothpick inserted in the centers comes out clean. Cool cupcakes in muffin cups on a wire rack for 5 minutes. Remove cupcakes from muffin cups; cool completely on rack.
4. In a medium bowl, combine frosting and root beer concentrate; stir until well mixed. Frost each cupcake with root beer frosting. If desired, dip edges of each cupcake in crushed root beer candies. If desired, remove and discard bottom halves of straws. Insert a straw top in each cupcake.
*Note: If you can't find root beer concentrate, substitute French vanilla or vanilla extract