One of our "Mommy Reviewers", Kalani from An Island Review, recently had the chance to try out the new audiomagazine from Shoofly! If you would like to win a copy of the CD that Kailani reviewed, please visit An Island Review for details.
Save 15% on your next Shoofly Audio purchase – use code "Shoofly" at checkout!
Visit the Shoofly site today and click on "Free Sampler" to receive a demo of their episodes or you can email Shoofly at jack@shoofly.com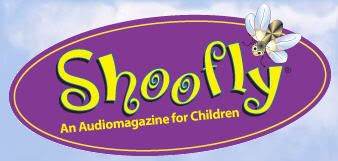 Don't get me wrong, I love reading to my girls. However, there are time when I just them to be quiet on their own. And what better way than something fun and educational? Introducing Shoofly, an audiomagazine for children.
PRODUCT DESCRIPTION
Our Shoofly series (children's stories, storytelling, kid's music, and poetry) is a unique award-winning audio publication. Each exciting CD or MP3 download boasts an eclectic and fun-filled mix of age-appropriate children's music, stories, and poetry.
MY REVIEW
My family recently had the opportunity to review 4 of Shoofly's CDs and was very impressed. Each 45 – 60 minute CD was filled with songs & stories that kept my daughters entertained for hours on end.
What we especially liked was the diversity of the contents. Not every song or story was upbeat, some were comforting, some were serene. This provided us with a range of emotional experiences and helped to hold my daughters' attentions. The narrative voices were very animated and really added to the stories by helping to paint a picture in your mind.
The best part is that it exposes my children to various mediums of entertainment. At age 7, Girlie Girl still hasn't learned very much about poetry but she can now understand it's concept and rhyme.
I would definitely recommend Shoofly Audiomagazine for Children to anyone who has kids in the 3 – 7 year range. And at only $39.95 for a 1 year CD subscription, it makes great gifts, too!
WIN IT! Visit An Island Review for your chance to win your very own Shoofly CD!