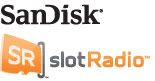 I feel like I am having a re-birth! No joke.
I have been so out of the loop for the last two years that instead of feeling like I am turning 30 this year, I've been feeling a little more in the late 60's range*. Since my daughter was born, a lot of things that used to mean a lot to me, like fashion and music, have been put on the back burner. I've slowly morphed into a plain Jane that now bops her head to the tunes of Dan Zanes and Laurie Berkner.
This really didn't bother me until recently, when the warm weather hit us last week. This time of year usually brings back some melodic memories for me, whether it's Nelly with It's Getting Hot In Here, Sean Kingston with Beautiful Girls, or the Plain White T's with Hey There Delilah. The problem, I have no recollection of what the "Summer Hits" from last year were. Why? Because I have a toddler that insists on hearing "The Wheels On The Bus" 101 times a day. And being the people pleaser that I am, I don't argue with her.
Enter slotRadio.
I recently received a SanDisk slotRadio to review and I honestly feel like it took ten years off my age. Not only because I now have access to over 1,000 Billboard hits and I'm back in the loop, but I finally found a "gadget" that you don't need to be a rocket scientist to figure out.
Honestly, I'm not a techie mom in the least. I don't have an iPod, never had an interest, I don't use a laptop, my cell phone has actual buttons not a touch screen and I still have to call my husband in the room when I need to figure out how to get a DVD to play on the TV. So when I received the slotRadio naturally I just handed it over to my husband and said "tell me what you think." I really didn't even want to be burdened with having to figure out something harder than an on/off switch. I don't have the patience.
Let me tell you. I have never seen a grown man get so excited over a music player in my life! And trust me, my husband iswas the proud owner of every iPod that exist so I thought that this little 2″ x 2″ gadget would just get lost in his toolbox and forgotten about. Boy was I wrong! It took two weeks for him to even put it down long enough for me play around with it. He called me from work every single day during his lunch break to talk about the slotRadio, what new songs he heard, what the guys at his job site thought, the pros, the cons and the tech stuff that I didn't even understand.
Today, I finally got my hands on this device and I see why he was so impressed! The song choices are great. There are seven genres of preloaded music to choose from and over 1000 titles total on each slotRadio card. When you make your initial purchase for $99.99 you receive a SanDisk slotRadio with one "mixed" slotRadio card. The mixed card comes with a variety of hits falling in these categories:
R&B/Hip Hop– Alicia Keys, Toni Braxton, Kanye West, Akon, Jackson 5, Joss Stone & more

Contemporary– Britney Spears, Amy Whinehouse, NSYNC, 3 Doors Down & more

Alternative– The Bravery, Beastie Boys, R.E.M., 311, Feist, Daft Punk & more

Workout– Bon Jovi, Fatboy Slim, No Doubt, Kelis, U2, Elton John & more

Chillout– John Mayer, Shania Twain, Smokey Robinson, Maroon 5, Tori Amos & more

Rock– Styx, The Police, Van Morrison, John Mellencamp, The Moody Blues & more

Country – Martina McBride, Alabama, Jennifer Hanson, Ray Charles, Pat Green & more
If you would like to upgrade your music library, you can also purchase genre specific slotRadio cards for $39.99 and they each contain 1000 preloaded Billboard hits. The cards currently available are Country, Rock, Hip Hop/R&B, and Oldies. Coming soon are 80's & 90's, DailyMix and Health & Fitness.
So here's why I love it (aside from the music).
1. No computer needed. You simply buy the cards and slip them into the player. No downloading, no additional purchases and no tech knowledge needed.
2. It's small. The player is a slim 2″x2″ square with a clip. Due to the small size, it stays put and it doesn't get in the way.
3. It comes with a built-in FM radio, which if I'm correct, the iPods don't. While I honestly can't see myself ever getting tired of the 1000 songs it comes with, it's nice to know I have a choice.
4. The price. For only $99 I have a music player and 1000 songs. I did the math and if I was to purchase 1000 songs from iTunes, it would come out to almost $1000, am I right? For an additional $39.99 you can get another 1000 songs. Um, again, I'm not a genius, but I think I just purchased 2000 songs and a player for under $150 compared to $2000+ with iTunes.
5. The variety. I am not a fan of one particular genre of music so the mix of current hits is exactly what I need. I'm also not a die hard fan of any one artist, so there is never a need for me to purchase and entire album. While of course there are songs on the slotRadio cards that I don't love, it doesn't compare to how little I can find on the radio or on my daughters "Toddler Hits" CD.
6. It's simple. You put the card in, you push the button to "ON" and you are ready to go. There are two arrows that let you skip "channels" (genres) and one forward button that let's you skip or pause the songs. That's it. The artist and song title are displayed on the screen and it even tells you what song is coming on next. So simple.
What I don't love:
1. There is no rewind button. I can't figure out why and I definitely think they need to add one, but it doesn't take away from the "sweetness" factor for me.
2. The ear buds the unit comes with are a little large. They didn't stay in my ears, but this happens often to me. I guess I have small ears, lol. I borrowed a pair of my husbands ChicBuds and they fit a lot better, so all is good.
All in all, I think it's pretty apparent that  I love the SanDisk slotRadio and would recommend it for anyone, even the tech-savvy guys like my husband.
We wouldn't dare brag about a cool product like the SanDisk slotRadio and not offer one to our readers, that just wouldn't be in true Mom Fuse fashion! So be sure to enter our Summer of Pink Giveaway  featuring the SlotRadio Bundle and over $1000 worth of other fun "Pink for Mom" products now!
**Daily Bonus Entry Trivia Question**
Name one Artist featured on this slotRadio card Sample Playlist (click "preview" to play any genre)
Leave the answer to this question on the original Summer of Pink Event page to earn your daily bonus entry! 1 bonus entry per day
*Just a quick note – When I said that I feel like I am more in my late 60's than about to hit 30, I don't mean it in a bad way. I have no problem with the fact that I will be 60 eventually, I'm just not ready for it at 29. Just as I'm sure 60-something year olds would not enjoy feeling like they were in their 90's.