This review was written by Mom Fuse "Mommy Reviewer" Kailani from An Island Review. Don't miss out on some great giveaways, product reviews and more! You can even list your own giveaways on An Island Review!
One of Girlie Girl's favorite things to play with is her Nintendo DS. We recently had the opportunity to review two new Imagine games by Ubisoft: Fashion Designer New York & Ballet Star.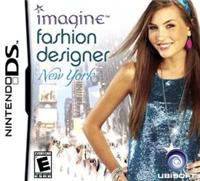 Imagine Fashion Designer New York: "In Imagine Fashion Designer New York players take on the role of a novice fashion designer given the chance to make her mark in the fashion capital of the world, New York, New York. Your goal is become the ultimate fashionista as quickly as possible, as you express your creativity in sophisticated design workshops and live in the glamorous world of fashion."
This was a great game for Girlie Girl because she aspires to be a fashion designer herself one day. She loves drawing her own designs on paper so being able to put outfits together and see them come to life was a real thrill for her. The best part is that she can also put together photo shoots and runway shows for the whole family to see. She's really proud of the styles she designs and can play Fashion Designer New York for hours!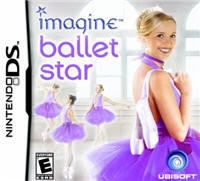 Imagine Ballet Star: "Become a famous ballet star right on your Nintendo DS. Immerse yourself in a fantasy world of twirls, jumps, music, fashion, and fun competition."
This game was a little harder to figure out but once we did, Girlie Girl had a blast. By learning and mastering new ballet steps and routines, you unlock different levels of performances and eventually win the World Championship. Girlie Girl's favorite part was being able to choose from amongst the different ballerinas and learn about their individual stories. She could also customize her ballerina with different hairstyles, makeup, and over 130 different outfits and accessories. She seemed to enjoy the fashion aspect of the game more than the actual dancing but it was a big hit with her none the same.
Thank you to Ubisoft & Mom Fuse for this review opportunity!
– Kailani @ An Island Review
About Ubisoft
Pushing innovation and realism as never before and allowing players to experience incredible emotional journeys: these are the challenges that Ubisoft teams take up daily. Thanks to their implication, many of our games have become established brands throughout the world.
While we constantly seek to reinvent these well known brands, we also strive to create three new franchises every two years. This editorial strategy allows the group to diversify its catalogue towards new promising segments and satisfy a growing number of passionate, demanding players. Discover the brands and hits that have made Ubisoft famous.
Posted by Nicole Ibarrondo, former editor here at Mom Fuse