Now more than ever, the world needs more socially responsible children. So how do you cultivate that trait in your child? Try these seven tips to foster responsibility in your children.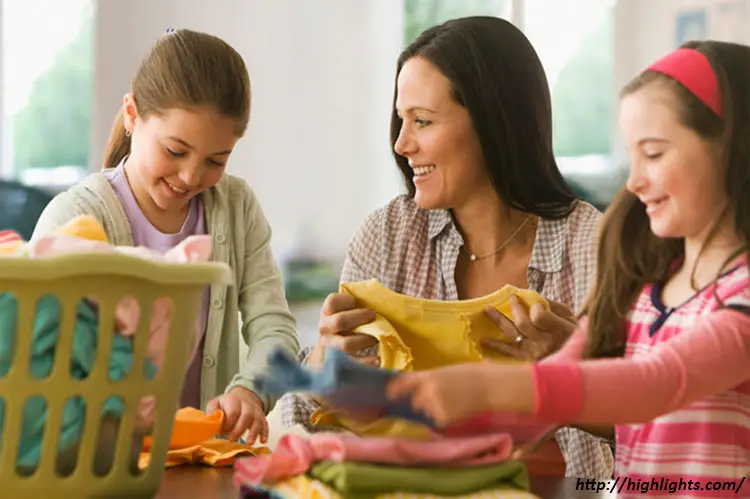 1. Empower Your Child
When we empower our children, they enable others through positive words and actions. Children who possess confidence go about making a change in their world, bettering their circumstances.
You can empower your child starting at an early age by providing simple choices about what they wear or eat. When you talk with your child, engage and give them your full attention.
This will let your child know they can trust you and tell you anything–no subject is off the table. One of the most empowering things you can do for your child is to allow them to take risks. Risk-taking behavior, like climbing a tree, or going down the giant slide, allows your child to develop self-confidence.
2. Raise Your Child To Clean Up After Themselves
Help your child to understand that they're responsible for cleaning up the disorder they make. As a parent, you know children make plenty of messes–so you have many opportunities to remind them to clean up.
The best practice is organizing a volunteer project. Try saying something like this if your toddler spills their snack: "Oops, you made a mess. That's okay. We'll clean it up together."
Likely, you'll need to remind your child to clean up their messes until they leave your home. However, if you stay positive, they'll eventually understand the lesson of self-responsibility.
3. Organize A Volunteer Project
A fantastic way to help your child understand the importance of social responsibility is by organizing a volunteer project for them to participate in. Helping others will open your child's eyes to the needs of others. It will broaden your child's perspective and give them a great sense of accomplishment.
Before selecting a volunteer project, get your child's input. If they love animals, consider volunteering at a local animal shelter. If your child is interested in environmental issues, you could organize a trash pick-up or adopt a highway.
4. Let Your Children Help
Have you ever noticed when your children help, it becomes more work for you? Yep, that's how it usually goes. However, you must let your children contribute to the work you're doing around the house or in the yard.
Assigning family contributions is a vital part of building social responsibility in children. Family contributions through chores make a child feel a sense of belonging and connection to the family unit.
Younger children will likely want to help, mimicking mom and dad as they work around the house. Older children might be less willing to jump in and might require more coaxing. However, children of all ages can contribute to the household.
Let your children choose which jobs they would prefer to do. Ensure that the work is age-appropriate to their abilities. If possible, try to make family contribution time fun–play music, help each other and even try making it a game.
5. Model Responsibility
One of the most important ways to teach your child responsibility is by modeling it in your own life. When your children see your example in action, they'll know what accountability looks like. Do your best to keep your promises to your child, and be sure to admit when you've made a mistake. Responsibility is about owning your faults too.
Additionally, be sure to include your child in your responsible decision-making process:
"We found this wallet. Now we need to take it to the police station."
"That dog looks lost. Grab mommy's phone, so she can call the number on the dog's tags to contact their owner."
The more examples of responsible decisions your child can refer to, the more likely they'll emulate you and grow into socially responsible young adults.
6. Give Your Child The Experience Of Paid Work
When you pay your child to complete the odd job around the house or encourage them to shovel the neighbor's driveway and get paid, your child learns the relationship between work, money, and time. Age-appropriate work-for-pay jobs are valuable in teaching children responsibility and help them to learn how to save their money for larger purchases.
You can encourage your younger child with simpler paid work experiences like walking the dog or weeding the garden. As they get older, have them consider reaching out to neighbors to weed their gardens, walk their dogs and shovel their driveways in the winter. When your children become teenagers, they will be ready to get their first paying job.
7. Teach Your Kids To Make A Schedule
Once your child is old enough to write and is busy enough to have after-school activities, teach them to make their weekly schedule. This simple strategy will help them understand their daily activities and internalize responsibility.
To get started, take a lined sheet of paper and list the hours of the day on the left. Next, ask your child what activities they have to accomplish on that particular day. If they need help, give them a hand. Be sure to schedule downtime each day and family time to reconnect. Listing out the activities will help them to feel less overwhelmed if they face a particularly stressful day.
Try These Strategies With Your Child
Your child can become more socially responsible. To start, try empowering them, modeling responsibility and letting them help the family.