For those of you with food allergies, you know how difficult it can be when it comes to celebrating special occasions. It is even more difficult on kids when they can't join in the celebrating because of food allergies. I have suffered from various food allergies since I was approximately 10 years old and it is often embarrassing to have to explain to people that no matter how badly you want to sample something, you just can't. People seem to think that "One bite can't do THAT much harm". Well, in my case (and the cases of many others), one bite truly is a matter of life & death. Jill Robbins, founder of HomeFree Treats, is also a mom and a clinical psychologist. She has seen first hand how hard it can be on kids to feel excluded because they can't eat the sweet treats that are often a part of socializing. In Jill's own words:
"I created HomeFree™ bakery, with a line of delicious, wholesome cookies and cakes, as well as a cook book full of easy to make allergen-free recipes, so that kids with food allergies can enjoy treats along with everyone else. Seeing the smiles on the faces of kids eating HomeFree cookies and cakes, you'll feel good knowing that these really are treats you can trust. "

When I was approached about becoming a reviewer for HomeFree Treats, I jumped at the chance. HomeFree Treats bills itself as "The treats you can trust". They are free from some of the most common food allergies: peanuts, tree nuts, egg and dairy. As an added bonus, these little goodies are made with whole grains and organic ingredients. Not only are they safer, they are healthier! These are definitely baked goods you can feel good about giving your children whether they suffer from food allergies or not.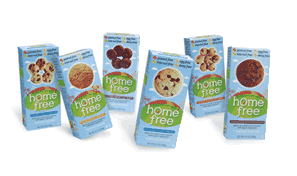 My package arrived on New Year's Eve and we celebrated the New Year by taste testing a wonderful assortment of HomeFree Treats! Jill sent us her Soft Oatmeal Cookies, Soft Chocolate Chip Cookies, Mini Chocolate Chip Cookies and Chocolate Chocolate Chip Cookies and all I can say is "YUM!".  If you have never tried dairy free baked goods before, the texture will be a bit of a surprise to you. The products still maintain the correct texture (soft or crunchy), but they are a little bit more dry. But don't let that stop you from indulging. The Soft Oatmeal are airier than any other cookie I have ever tasted and I found that to be a very pleasant change. They are large rounded cookies that are very soft nothing like the flat, hard, crumbly cookies most companies sell. The Mini Chocolate Chip Cookies are of the crunchy variety-and when compared to the Soft Chocolate Chip Cookies-tastier in my opinion. I am used to home baked chocolate chip cookies loaded with butter and egg, and that is the texture/taste my brain has come to associate with soft chip cookies. You don't miss the dairy & egg in the minis as they aren't necessary to the crunchier texture. The tastiest sample of all was the Chcoolate Chocolate Chip Cookies. Mmmmmm!!! I had to force myself to share these with my boyfriend and our children, they were that good. These cookies have a nice, soft texture and a rich chocolate flavor. Everything that Jill selected and sent to us was tasty, but hands down the Chocolate Chocolate Chip Cookies were the winner in my family.
In addition to cookies, Jill also offers Coffee Cakes (in Apple & Cranberry), an Allergin Free Baking Cookbook, high quality ingredients for your own allergin free baking & cooking, kits, gift certificates and gift baskets. If your children, or another loved one, suffers from food allergies, I HIGHLY recommend bookmarking HomeFree Treats and visiting often when planning special occasions.

While most commercial bakeries will post this disclaimer (or something similar) "All products are made in a facility where nuts, wheat, eggs, milk and soy are stored and used." Jill takes EVERY precaution to ensure she doesn't have to post these words. 
"Our kitchen is designed to bake safe, delicious treats. The appliances and other materials in the kitchen are new, ensuring that there was no prior usage with food allergens. Our delivery area is separate from the kitchen, allowing us to wipe down all ingredient deliveries. None of our products contain ingredients made from peanuts, tree nuts, eggs, wheat, or dairy. (Please note, however, that due to current agricultural practices in this country, oats often contain traces of wheat.) There is no soy in our products or facility except for soy lecithin, which is tolerated by most (but not all) people with soy allergies. No peanuts, tree nuts, eggs, wheat or dairy are permitted in our facility for any reason at any time.
And we go further. We select each ingredient not only for its quality, but also for the way in which it was processed and packaged with regard to allergen cross-contamination. We choose suppliers that report the best possible practices with regard to cross contamination. And, to double check, we conduct allergen testing for peanut, almond, egg, and milk proteins, on our incoming ingredient batches and on random product batches as well."
These are very encouraging words for those of us who have to watch every bite that goes into our mouths. I kow I will be recommending HomeFree Treats to anyone I know with peanut, tree nut, dairy and egg allergies. These tasty little treats will satisfy anyones sweet tooth.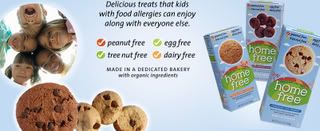 This was a guest post written by Aimee Plesa from Shake Your Bon Bons