Have you ever found yourself in the kitchen with some leftover roast meat thinking "What am I going to make tonight?"? That's exactly the situation I found myself in yesterday. I had cooked a weekend roast dinner with pork, potatoes and plenty of vegetables. I find that whenever I make roast pork, I cook too much which means there are always leftovers. And while I had lots of leftovers, I was lacking inspiration!
Enter the cook.me recipe website. I typed "leftover pork" into the search bar and up popped this recipe for Leftover Pork and Potato Hash. I checked the ingredient list and breathed a sigh of relief – I had every item including a can of cream of mushroom soup! I was ready to get started.
The Cook.me recipe was super straightforward to follow. There were clear photographs to follow at every step of the cooking process. I started by sautéing onion and celery until soft and lightly golden. I added a can of mushroom soup, milk, worcestershire sauce and tabasco before stirring in pork, potato, peas, and paprika. I heated up the sauce and served garnished with paprika and fresh chopped parsley. It was delicious!
To make this, I start by sauteing some onion and celery in melted butter. I add a can condensed soup, milk, Worcestershire sauce, and Tabasco sauce to make the base. Then I add the pork, diced potato, peas, and paprika until the hash is bubbling and hot. I serve this hash sprinkled with some freshly chopped parsley and a dusting of paprika. Yum!
To make Leftover Pork and Potato Hash, you will need the following ingredients:
How to Make Pork Potato Hash:
Heat a skillet and Place a large skillet or pan over medium-low heat and melt the butter.
Cook the onion and celery
Add the soup, milk, tabasco and Worcestershire sauce
Add the pork, potato, peas, and paprika. Stir well and cook over low heat until the sauce is bubbling hot. Taste and season with salt and freshly ground black pepper, to taste.
Serve immediately sprinkled with paprika and fresh chopped parsley.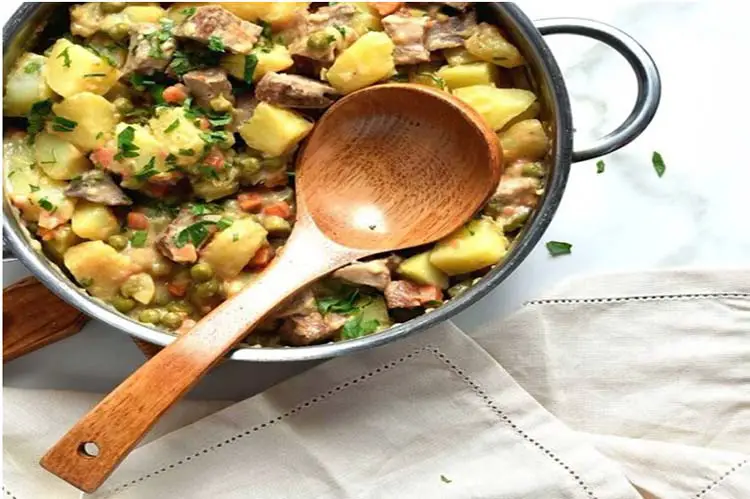 If you are looking for a recipe that you can use with leftover pork and potatoes, this is the one for you! I really love making cook.me's recipes. I find the clear photographic steps are really useful for a cook like me who doesn't have a lot of experience in the kitchen. Cook.me has enabled me to improve my cooking skills – there's a recipe for every occasion!