Outdoor Kids Party
Eventually, spring will be here (I promise — I'm pretty sick of the cold myself). When spring comes around, there will be more opportunities to allow your children to be able to play around outside. A great idea to keep your kids playing outside is to throw a party for your children and all their friends. There doesn't even need to be a special occasion for the party. It can just be to celebrate spring, or even just because your kids would enjoy a party.
If you're looking to throw a party for your child for any reason at all during the upcoming spring, here are some ideas on how to keep it entertaining (and hopefully prompt them to take a nap when they all go home to their own parents.)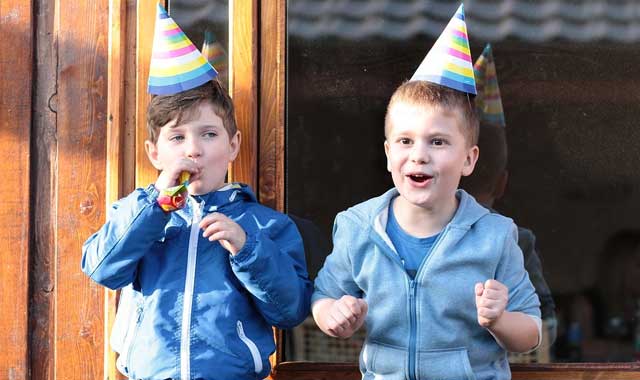 Have a Fun Theme:
The kids don't have to dress up for this theme, but they could, too! There's no reason not to. And finding products to add to whatever your theme may be is extremely easy nowadays. You could do anything, from a princess party, to a Star Wars party, to a sports party, or a superhero party. It'll definitely add to the children's enjoyment to have some themed party decorations outside in the backyard. It may even prompt some fun games that the kids come up with on their own based on whatever theme you put on.
Forgo the Candy — Have Some Fruit:
Let's keep the candy out of the situation. Fruits like watermelon, grapes, and strawberries taste sweet enough on their own. Kids will eat almost anything anyway, and this way at least they're having a healthy snack that isn't going to completely rile them up. Candy is just not a great move, and kids don't need it to have a good time at a party. Place out some plates and some yummy fruit for the kids to snack on and they'll be perfectly happy. I promise you.
Don't Have a Big Backyard? No problem:
Even if your backyard isn't huge, you don't have to worry too much about that.  There's still plenty of ways to have a fun party in a small backyard. (Although, if you're looking to move to a place with a big backyard, you may want to check out these Minneapolis movers.) Ideas for a party in a small backyard include: using water balloons or water guns and hosting a fight with them, creating a makeshift movie theater in the backyard, or having a large photo booth area for your kids to take fun pictures at.
Play With Your Kids During the Party:
Your kids may be hanging out with their friends, but you're also your kid's friend, mom. Playing directly with your kids and their friends (when you're not setting things up and putting other things away) can help you bond with your children, and can make it easier to keep an eye on activities happening during the party.  It's honestly a win/win.