If you love to spend plenty of time outdoors relaxing and entertaining you will want to find some furniture that looks the part and also manages to hold up to the demands of weather conditions as well as withstanding plenty of use.
Outdoor Furniture
Image Source: Maxpixel
Here is a look at how to make some savvy outdoor furniture choices that manage to combine a stylish look with the practicalities of being robust enough to cope with what the weather has in store for your area.
There are some tips on how to narrow down your choice of finish and fabrics for your furniture and some pointers on what to look for in terms of protection from the elements.
Fit for Purpose
When you are shopping around for outdoor furniture you can find offers from Bridgman and others that are well worth a second look and might turn out to be just what you are looking for, but you do need to ask yourself a few relevant questions before adding anything to your basket.
There are so many different design options and materials to choose from when it comes to outdoor furniture it can become a bit overwhelming and even confusing.
The fundamental point you need to keep in mind when narrowing down your options is to work out exactly what activities you want to use your furniture for and what sort of use and weather conditions will it have to cope with?
It would be a good idea to take the same basic approach to choosing your outdoor furniture as you would when choosing something for the inside of your home.
Write down a floor plan for the outdoor space where your furniture is going to be used and then decide what you are going to be mainly using the space for. If you like hosting barbecues and want dining options, that could heavily influence your design plans, just as much as if you simply want an inviting area to relax in for than anything else.
If you are going to be doing a lot of dining, you will want to design a space that allows you to do that in the best possible way. Putting your ideas down on paper and see how they look and what configuration works will help to ensure you don't buy furniture that isn't fit for purpose.
Durability is a Big Factor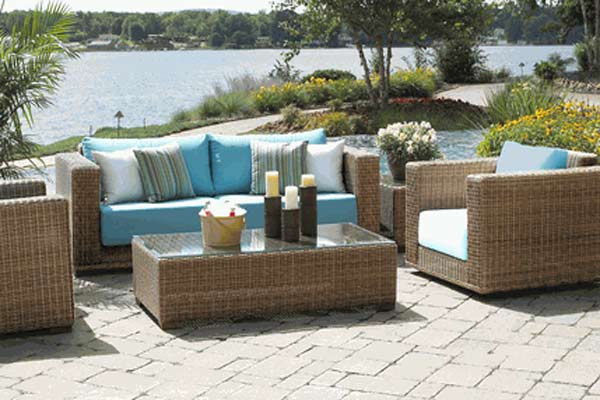 Image Source: Flickr
There will be occasions where you might have to make some design compromises for the sake of something more important when you are talking about outdoor furniture, which is durability.
With the range of stylish options now available you should still be able to find something that you like the look of and feels comfortable, as well as ticking that all-important box relating to durability.
The simple advice that is almost always worth following is to aim to buy the most durable material and best quality furniture that your budget will allow.
Teak furniture has an enviable reputation and the well-used phrase "tough as teak" tells you all you need to know about the suitability of this choice of material. Cedar and even a more modern option of powder-coated metal can also withstand the elements well, as too can plastics, although there is an enduring quality attached to a high-quality wood finish like teak.
Think about storage and care options when deciding which type of furniture you might want to buy.
If you have storage options that allow you to put the furniture away at the end of the season or when the weather hits a bad patch, that can help with your decision, as you can give your items some added protection.
It pays to remember that no type of furniture is completely maintenance-free. You will have to re-stain wooden furniture every 2-3 years to keep it looking in top shape, but plastic chairs will still need a good clean too, so don't go for a material purely on the promise that you might be able to buy it and use it, maintenance-free.
Cushions and Pillows
Image Source: Pixabay
Don't forget to pay attention to the type and quality of cushions and pillows you buy at the same time as your furniture.
Ideally, you want outdoor cushions that are made with polyurethane foam rather than polyester-filled versions.
The reason why polyurethane is a smart choice is because they allow water to flow through them, which is better than soaking up the wet which is what happens with polyester ones. Also, look for pillows and cushions that offer UV protection and have also been designed to withstand moisture in general, and the threat of mildew as well.
Feel free to follow fashion trends if you want when choosing your outdoor furniture but remember that durability and suitability have to be top priorities alongside looks.
Gabriel Mistry writes about gardens and gardening. He's a gardener and handyman and enjoys writing about his job in the colder months when he's stuck at home.