Cleaning products have a pretty obvious purpose: to improve the appearance and safety of your home by removing dirt, grime, and other various undesired materials from household surfaces. However, part of the issue here may be that many people who mean well when they use them get more than they expected due to household products.
Natural Home Cleaning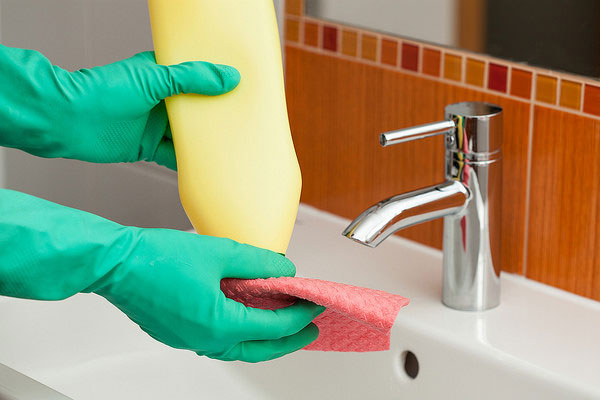 Image Source: Flickr
The numbers tell the story here: n the year 2000, household cleaning products caused about 10 percent of all toxic exposures, according to the U.S. Poison Control Centers. While this doesn't necessarily mean they can't be used, many of these products can cause severe harm if ingested or put directly on the skin, which can be a major concern when it comes to children. The good news for those looking for an alternative is that there is a growing amount of natural products and ingredients out there on the market that can provide similar results without this concern.
The Ingredients
Many people have their own personal ideas on what items they can use. Here's a small starter list of things that you may want to pick up:
liquid castile soap
natural salt
baking soda
borax
washing soda
hydrogen peroxide
lemons
microfiber cloths
essential oils (optional)
spray bottles. Any material will work, but you may want to seek out environmentally friendly materials.
Can you go outside this list? Of course! There are many items in nature that serve as natural antiseptics and cleaners. A little bit of research can help you point out ones to use. Along with this, many cleaning companies are now either offering exclusively natural products or having natural labels to hop on this trend. If you don't want to leave behind any of the major brands that you have grown to love and trust, you may also want to look to an independent group to look and see what companies are doing and how they rate.
A great example is the Environmental Working Group, which works to rate many household cleaners to see how effective and safe they are. They rate on an A to F scale. To put things in perspective, only 59 products scored an A rating. 48 scored a B, 94 scored a C, 199 products had a score of D, and 151 scored F.
So, what products win out? Just like anything else, you need to be a dedicated consumer. Check out the website for the company that you're thinking about purchasing from. How transparent are they about not only the ingredients they use, but where they are sourced? Are authorities in the natural products space aware of them? With the movement getting more popular, there are many companies that are trying to get some of the market share with being fully honest. Prepare accordingly.
The Tips
On top of this, you want to make sure that you are incorporating a few naturally minded tips to get the most out of the ingredients that you choose to purchase and the companies that you work with. Here's a sample of the few things you can do.
Use baking soda and water to create a paste that you can apply to clean an oven. Just create it, set it, leave it for a few hours, and you are ready to wipe things off.
Keep a few microfiber items around, including cloths and a mop. This is more of a money saving measure, but it can make a big difference over time.
Create a natural air freshener rather than paying out for artificial scents. Combining citrus like lemon and lime with spices like cloves, cinnamon, and thyme to create a variety of different scents.
When it comes to using these items, the prime benefit is the peace of mind that you don't have to come into contact with typical household chemicals. At the same time, you may want to make the process a bit easier by getting outside help for your cleaning issues via a home cleaning service. This is far from a service for the rich and famous. With a slight financial investment, you can have a person come in every few weeks or at a pace that makes sense for you. With a deep clean, you would be surprised about not only the aesthetic benefit but how much time you save from your housework. Read more at this post.