As the kids get older and things seem to get more expensive I'm always on the hunt for good freebies…. I was recently introduced to Julie's Freebies, a site which is packed full of good freebies and deals that you won't want to miss out on.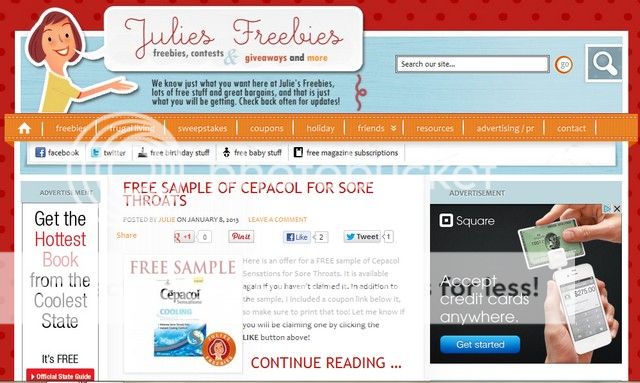 Julie's Freebies has everything from free baby stuff to free magazine subscriptions. You can even find some great coupons and sweepstakes as well as informative articles on living a frugal life.
It's kind of strange but just visiting the site makes me happy. I love the color combinations and it's so easy to get around that you wouldn't have any trouble finding anything. The top navigation is easy to read and follow while the body portion of the site features the latest freebies. There's even a small section on the left hand side which has a few of the store coupon policies and information for quick reference.
If you're like me and don't get a lot of time to browse around the internet you can sign up for weekly updates so you never miss a deal.
Nearly 32,000 people on Facebook have liked her page and I cannot believe I've never stumbled across her site before! Needless to say I now like the site on Facebook, have signed up for the weekly updates and have also bookmarked the site!
Get Free Netflix Now
Best safe and secure cloud storage with password protection
Get Envato Elements, Prime Video, Hotstar and Netflix For Free
Best Money Earning Website 100$ Day