I love banana bread. It's certainly one of my favorites, running a close first place with zucchini bread.
If I had to choose between one or the other I would probably go insane right there… it would be such a hard decision for me!
This recipe has been in our family for quite a while and I've tweaked it a bit over the years to suit our family's likes.
We are not huge fans of adding nuts in our breads but you can easily add some if you like it that way.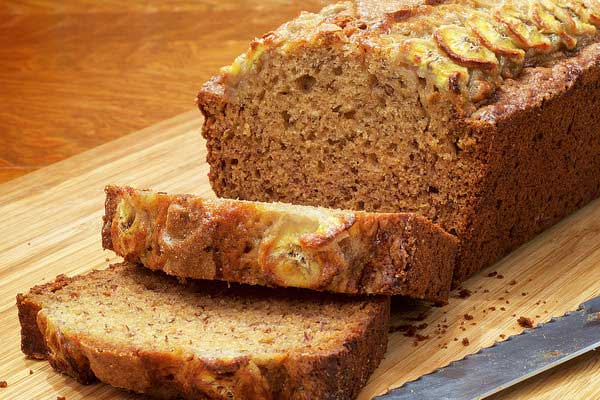 Image Source: Flickr
Mom's Banana Bread Recipe
1 3/4 c. flour
1 1/2 c sugar
1 tsp baking soda
1/2 tsp salt
2 eggs
2 ripe bananas, mashed
1/4 c milk
1 tbls white vinegar
1/2 c vegetable oil
1 tsp vanilla
In a large bowl, add the eggs, bananas, oil, vinegar, milk and vanilla. Mix together until well combined.
Add the flour, sugar, baking soda and salt to the mixture and stir until just combined. At this point you will want to fold in the nuts if you choose to add some.
Pour into a greased 9x5x3 loaf pan and bake at 350 degrees for about 1 hour and 15 minutes. To be sure it's done you can put a knife down the middle, if it comes back up with no batter it's done.
That's it! This is our family's banana bread and we really enjoy it. I usually make these in batches so that I can freeze a couple or serve when we have guests. It also makes a great snack or quick morning breakfast.