We've gathered up a few events, deals, sales, specials & more that will be going on in May 2009. Listed below are ones we though you might be interested in.
If you have something for June you'd like to add please email Jessica with your information, we  prefer you send us a graphic image to advertise your event, but it's not mandatory. We also would love a link back for helping spread the word about your event (not mandatory but very much appreciated)!
————————————————————————————————————————————————
To help ensure the 2.6 million infants and toddlers living in poverty receive the love and security of a blanket, Toys"R"Us, Inc. has launched a new philanthropic campaign in partnership with Save the Children called Bundled in Hope. The Bundled in Hope campaign will help purchase blankets for babies in need in some of the most impoverished parts of the country, as well as provide support for Save the Children's early childhood development programs here in the U.S. The nine-week in-store and online fundraising campaign will last through July 11. Consumers can donate as little as one dollar in any Toys"R"Us or Babies "R"Us store and online at Toysrus.com/BundledinHope, and one hundred percent of the funds raised will benefit Save the Children.
In addition to the monetary donations collected through the Bundled in Hope campaign, an online auction will be hosted, featuring blankets designed by celebrity moms, including Julianne Moore, Jennifer Garner, Isla Fisher and Kyra Sedgwick. The blankets will be auctioned through July 11 at Toysrus.com/BundledinHope and all winning bids will benefit Save the Children's U.S. programs. Stay tuned for more info about Bundled in Hope!
————————————————————————————————————————————————
————————————————————————————————————————————————
Free Ice Cream Day at Walmart 5/30
As a kickoff to summer and as a way to help shoppers "beat the heat" this season, Wal-Mart is hosting ice cream social events in 2,523 Walmart Supercenters throughout the country.
Visit your local participating Walmart on Saturday, May 30th to receive a free Ice Cream sample from:
Dib's

Blue Bunny

Ben & Jerry
Samples will be given out between 11am-4pm. 1 sample per customer while supplies last.
 ————————————————————————————————————————————————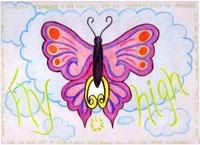 The Katelyn Joy Derstine Scholarship Fund, Inc., "Fly High Award," was established in 2007 by Katelyn's mother, Bambi Famous Kaine, as a tribute to the legacy and profound impact her daughter Katelyn had on the lives of many young adults in the Sarasota community in her twenty short years. Katelyn's spirit was one of youth and vibrancy coupled with a spirit that transcended generations. Young and old were drawn to and inspired by the life and love of Katelyn.
Sparkle-Plenty.com is proud to be a part of this very special scholarship fund. In honor of Katelyn, they've designed a Swarovski crystal Fly High Butterfly shirt, available to all for purchase. The design is a replica of Katelyn's original art (shown above), created entirely out of Swarovski crystals.
You can purchase the shirt HERE. If you are a retailer and would like to get involved in selling the shirts to raise funds, please contact Sparkle-Plenty at 800-952-0446. Proceeds from the sale of the shirts will go to the fund, helping to further the education of promising students – something that would have meant the world to Katelyn.
  ————————————————————————————————————————————————