Here's what Mom Fuse "Mommy Reviewer" Caryn, from Rockin' Mama, had to say about the Liquid Metal Collection by Sergio Gutierrez…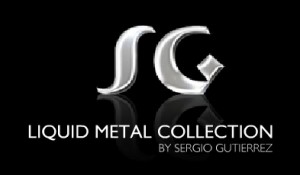 This past Valentine's Day, I received a GORGEOUS piece of jewelry (but it wasn't from my husband!). I have to start by saying thank you to Nicole at Mom Fuse for coordinating this amazing review opportunity!
I know you're wondering what I received…well here is a picture!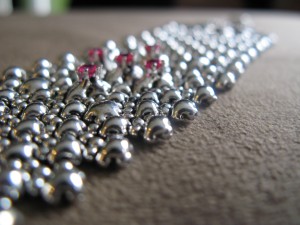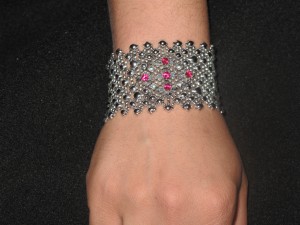 It is a beautiful bracelet designed by Sergio Gutierrez. Sergio is the very talented designer behind Liquid Metal Collection. An electronic engineer by trade, he researched ways of using ball chain to create a mesh-like fabric. It was through this research that he developed the basis for his Liquid Metal Mesh line of jewelry and accessories. But he didn't stop there! He received a patent for creating a unique technique called Liquid Microchip. He fused electronic circuitry components with bronze and silver base mesh, precious metals, and semi-precious stones. How ingenious is that? Some of his past and present clients include Betsey Johnson, Nordstrom, Bebe, and Cache. His designs have been worn by many celebrities including Demi Moore, Cher, Fergie and Sharon Stone.

Here is a little more about the Liquid Roots collection (my bracelet was from this collection) from the site:
The Liquid Roots collection uses Liquid Wave Solder in a unique "flame fusion" technique. It is known for its unique, soft and fluid mesh.
I received a bracelet from the Liquid Roots collection complete with Rubys! The design is very modern but the Ruby accents give it that vintage edge. Despite the fact that each piece is hand-crafted, the quality is superb. The piece is bold enough to complement evening attire but easily adaptable to everyday outfits (like the occasional but cherished date nights with hubby). His entire collection is uniquely artistic combining vibrant, trendy style with high quality craftsmanship. Some of his designs now include the use of Swarovski Crystals.
Sergio has a growing concern for environmental issues and uses recycled computer parts to create some of the materials for his collection.
You can find pieces from the Liquid Metal Collection at the W and MGM Mirage hotels and at select Something Silver stores nationwide.
Caryn @ Rockin' Mama