Our landscape is a critical part of our home. It's the place our kids are ready to visit as soon as they get home from school, and it's the work we look forward to in the evenings and on weekends.
With everybody bouncing on the trampoline, tossing a baseball, or playing with the dog, the yard takes a lot of abuse. In time, it can need some help to restore its green beauty to a durable condition.
Lawn Renovation Ideas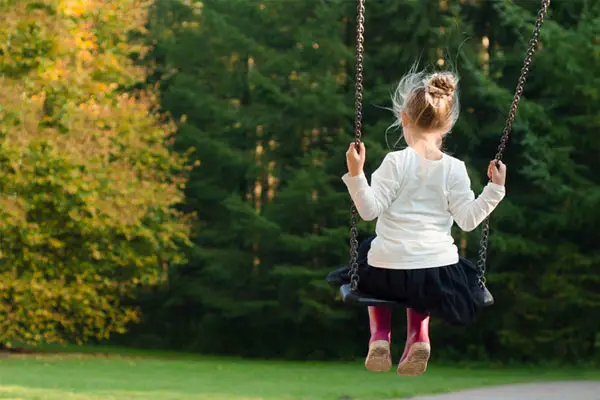 Image Source: Pxhere
Renovating your yard is a periodic necessity, especially when you use it as heavily as most families do. It's a fairly complicated process that can easily be mishandled, leaving your results lacking and your money wasted.
The first thing you need to do is to have a master plan. We often think we'll just seed the whole thing in grass and then do other things later, but it is usually easier to do the opposite. More on that in a minute, but for now, remember that you need a comprehensive plan for the whole landscape. Putting it into action can also involve the kids in lots of fun ways.
Start with the trees. These are the biggest users of space and therefore have the least flexibility on placement. Choose the types of trees you want, and research them carefully. Remember that you must plan based on the size the tree will be, not the size you want it to be. Provide enough clear space in all directions (including up!) for the tree at its mature size.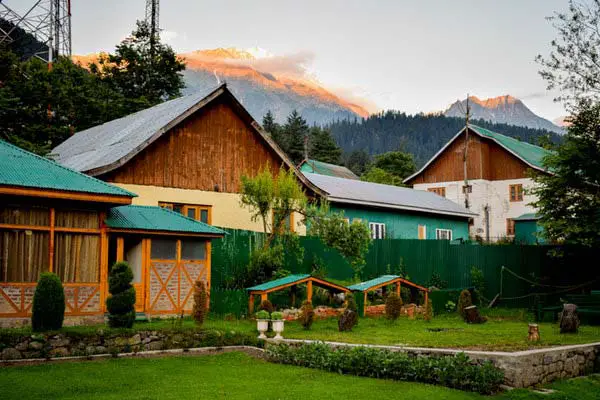 The next thing is to think about your permanent non-natural elements. Where will that trampoline be? Where will you put Rover's doghouse? Work around those considerations first so that they won't get in the way.
Once you have everything but the grass squared away, get the seed. Stay away from the bargain products. These may have poor germination and could be contaminated with weeds that will try your patience for years. Look for the best recommended grass seed for your use and climate.
Then follow the steps to seed it correctly. Start with a soil test. You can get these done through your local Cooperative Extension Service office. The results will tell you exactly how much lime and essential fertilizer elements are needed to optimize soil conditions for the particular grass you have chosen. Collecting the samples can be a fun way for kids to get involved because it's a fairly simple process of collecting cores from throughout the lawn.
Next, you'll need to prepare the lawn. If you're doing a complete re-seed from the ground up (literally), you'll need to mow as close as possible and then thoroughly till the ground. If you are teaching your kids to mow, this can be a great time to give them some practice, because you're tilling the sod and it won't matter if they do a bad job.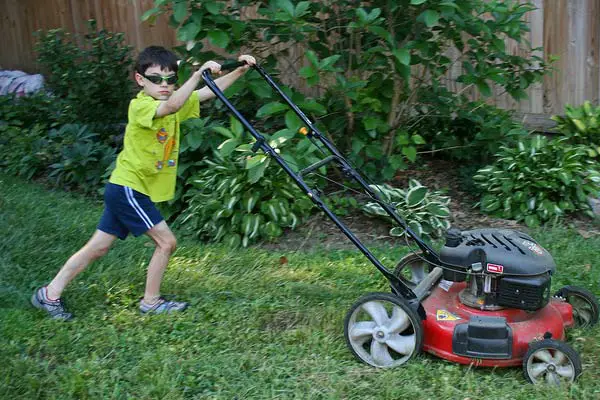 Image Source: Flickr
During that tilling process, your kids can help again. Have them pick up rocks and foreign objects. Make it a competition and give a prize to whoever collects the most debris. Provide gloves and have the kids wear shoes and long pants in case glass or nails are present.
Finally, put out the seed. Use a broadcasting seeder to cover the area thoroughly. This is a part where kids should be in more of a supporting job, since complete coverage is essential. Let them refill your seeder or otherwise work from the sidelines, but a conscientious adult should do the spreading.
Their payoff comes with mulching. You should have about half the soil exposed and half covered by straw after you spread it. The kids will love throwing straw everywhere, and it's another job that's hard to do incorrectly, so let them jump in.
Care after seeding involves appropriate watering (another great kid job) and then mowing when some of the grass reaches appropriate heights. To have a complete, full stand of grass, it's essential to cut the taller stuff to allow sunlight for shorter blades to catch up.
Re-seeding your yard is a big job, but it's very beneficial to your home and family. Done correctly, it can provide a learning experience for your kids, greater value for your home, and safer recreation for everyone in the family.