For most people the idea of laser removal treatment can be a little daunting, and most of their questions about the treatments will be about the equipment, how painful it might be and how long their particular removal might take. However one of the most important steps to ensuring your tattoo removal goes as successfully as possible is following the aftercare instructions that will be provided to you by the clinic.
Fade to Blank based in Sydney specialize in laser tattoo removal and post treatment skin care. They were kind enough to answer our questions about how best to take care of the treated area to not only ensure quick and efficient recovery and prevent irritation, but also to ensure the removal of the tattoo as quickly as possible.
So How Does Laser Tattoo Removal Work?
Laser tattoo removal works by sending pulses of light shock waves down onto the skin, which in turn break up the particles of ink that sit within the second layer (the dermis), making them smaller and allowing them to be absorbed into the bloodstream and expelled naturally from the body over time. As such, if done correctly, it is a completely non-invasive, safe and effective process with no major side effects. Unfortunately there are clinics in Australia that currently operate laser removal services without having the proper equipment or training, which can lead to damage to the skin and even scarring. Always make sure clinic you choose is using the best laser technology on the market and has fully qualified staff.
Between treatments, there are a few things you can do to help the healing process and keep your skin in the best condition you can. These include:
Keep your skin as clean and dry as possible. After your treatment the laser removal technician may provide you with a gauze dressing to help protect the area – this should be kept on as long as possible, although obviously some areas are harder to apply this to than others.
Use a mild or gentle soap when washing, and always make sure you pat the area down lightly to remove any moisture. You can moisturise the area if you want – it can help to keep your skin supple during the healing process.
Avoid saunas and spas or any excessively hot water in general. This can irritate the area of the tattoo removal.
If scabs or blisters form on the area, do not be tempted to pick or pop them. This is your body's natural way of protecting the area, and disrupting this can make the healing process go a lot slower, or even to encourage scarring. Most blisters will go away by themselves over the course of a few days, with scabs generally falling off after a week or two.
Avoid excessive sun exposure. When you're trying to protect the area where your tattoo is being removed, getting sunburnt is the last thing you want. Sunshine affects the levels of melatonin in your skin, which in turn can negatively affect the way your skin reacts during laser removal treatment. If you are going out in the sun during laser treatments, make sure you cover the area up and use a high protection sunscreen.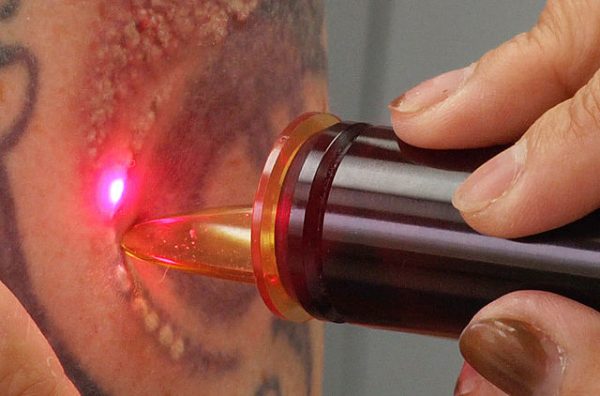 Image Source: Wikimedia
While the laser removal treatment process is relatively pain free – most people describe it as being flicked by a rubber band for just a few seconds – you might find that the skin around the treated area is sore for a little while immediately after treatment. Most good laser clinics will offer you an antiseptic cream that will not only keep the area free from germs, but will help with the pain as well. You can buy these specific creams from chemists if you require further pain treatment, however it is unlikely you will need it after the first hour or two after your treatment session.
When you're looking for a laser removal clinic to attend, it's important to find one that offers an initial consultation so that you can get advice on the laser treatment that will be right for you, to have your skin assessed, and so that the qualified technicians can answer any questions on after care you might have. Everyone's skin and their tattoo will be different, and getting personalised care can help to make the whole process go smoother for you. For more information about laser tattoo removal be sure to visit Fade to Blank in Sydney.