It has been tradition in many parts of the world for parents to keep their children in the dark about the family finances. There may be good reasons for this. Children can't always understand or handle this information. Some information might make a child scared or boastful, and the kid might end up sharing information with people who shouldn't know it.
Kids Saving Money
On the other hand, talking to kids about the right corners of your family finances will help them develop good financial skills which will last a lifetime. It doesn't take much time to talk about spending and saving decisions, and this information will become ingrained during the formative years of your children's lives, going on to help them make wise money choices for the rest of their lives. We'll talk about some of these opportunities in the rest of this post.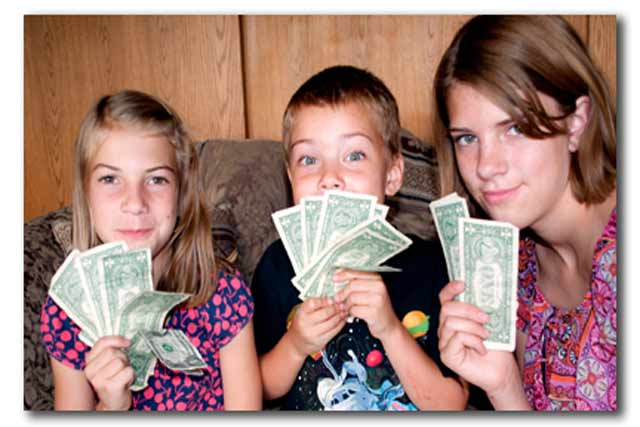 Image Source: Flickr
It's important to help your kids understand the basic costs of running a household, and how savings might be made. For example, most young children have no conception that their house has electricity and water because their parents pay for it. Explain where these services come from and how you pay for them every month. Occasionally look for savings from these service providers and their competitors, and let your kids know when you succeed in locating savings. Factors like the size of your family might have an impact on what you pay for home insurance, and this is something your kids should understand.
Whenever your family is going to make a big purchase of a prominent and tangible good (think cars, washing machines, sofas, etc.), this is a great opportunity to help kids understand savings. Talk to your kids at dinner about the features which your new item will need to cover, and the quality of various goods at various price points. Guide their thinking and come to a family conclusion about the best item and its associated cost. You can do as much or little of this process as is appropriate to your family, but know that it is a big learning opportunity.
Image Source: Flickr
The grocery store is a great place to teach savings. Many people go to a grocery store and simply buy what's on the shelves, but a little more planning can save a great deal of money. Help your kids clip coupons, have them compare brands on the shelves to find the best value, and take them to more than one location so they can see how the prices measure up. But in bulk when you can and show your children how scale has important ramifications for the cost of individual goods.
When money is a regular part of the family conversation, kids grow up to be a lot more financially savvy than the average person. Some parents like to shelter their kids from the worries of money, but this does little more than keep them from learning the vital skills they will need to be financially independent and prosperous. Keep at it and you'll be amazed at the knowledge they gain and the good habits they develop.