We've gathered up a few events, deals, sales, specials & more that will be going on in June 2009. Listed below are the ones we thought you might be interested in.
If you have something for June you'd like to add please email Jessica with your information, we  prefer you send us a graphic image to advertise your event, but it's not mandatory. We also would love a link back for helping spread the word about your event (not mandatory but very much appreciated)!
————————————————————————————————————————————————
To help ensure the 2.6 million infants and toddlers living in poverty receive the love and security of a blanket, Toys"R"Us, Inc. has launched a new philanthropic campaign in partnership with Save the Children called Bundled in Hope. The Bundled in Hope campaign will help purchase blankets for babies in need in some of the most impoverished parts of the country, as well as provide support for Save the Children's early childhood development programs here in the U.S. The nine-week in-store and online fundraising campaign will last through July 11. Consumers can donate as little as one dollar in any Toys"R"Us or Babies "R"Us store and online at Toysrus.com/BundledinHope, and one hundred percent of the funds raised will benefit Save the Children.
In addition to the monetary donations collected through the Bundled in Hope campaign, an online auction will be hosted, featuring blankets designed by celebrity moms, including Julianne Moore, Jennifer Garner, Isla Fisher and Kyra Sedgwick. The blankets will be auctioned through July 11 at Toysrus.com/BundledinHope and all winning bids will benefit Save the Children's U.S. programs. Stay tuned for more info about Bundled in Hope!
————————————————————————————————————————————————
NYC Families: You're Invited!
You ought to be in pictures! Calling local NY families! Adorable NY-area kids needed for a Super WHY live national TV segment on the CBS Early Show plaza Thursday, June 11th, at 7:15 a.m. sharp!! Join weatherman Dave Price and the beloved Super WHY costume characters to celebrate the launch of Super WHY toys. All interested parties please RSVP ASAP to office@grandcommunications.com  and be sure to include ALL the names of attending children. Attending kids will also receive free goodies.
————————————————————————————————————————————————
Celebrate summer in style with 25% OFF the luxurious Isabella Oliver Maternity collection, starting tomorrow (Wednesday 3rd June) until midnight on Monday 8th June. Simply use the promotional code 'summer' at the checkout to receive your discount. The code only applies to full priced items (excluding the sale, cowshed skincare and lingerie)
 ————————————————————————————————————————————————
Invitation Design Contest from Invitation Consultants
"If you are an uber-talented designer who has always wanted to design party invitations and special occasion announcements, this opportunity is for you! We are starting a project simply called Invitation Design Contest to find the most talented designers. There will be 3 winning invitation designs. A panel of top notch judges will select the winning invitations. *You may submit as many designs as you like." InvitationConsultants.com
Be sure to check out Invitation Consultants for Graduation Party Invitations, July 4th BBQ Invitations, and consider setting up a "Golf Date" for Dad this Father's Day, invite all his buddies to the green with these adorable Golf Theme Invitations!
  ————————————————————————————————————————————————
————————————————————————————————————————————————

Nickelodeon's Parents Connect has just launched their fabulous Boot Camps, one for Potty Training Awareness Month and one for Recession Proofing your Family. Throughout the month of June, you will be guided by experts on how to take steps towards achieving your goals. Sign up is simple and the challenges are fun for the whole family. The experts will also be there every step of the way to answer any questions you may have. So go introduce yourself and get on the right track.
————————————————————————————————————————————————
For a limited time, use this exclusive BeautyTicket.com VIP Pass to get 25% off the new (and wildly popular!) POP BEAUTY NAIL GLAM polishes. Use code "BEAUTYTICKET" at checkout. This offer is only available online at popbeauty.co.uk Expires 7/1/09
(offer available in U.S. and Canada)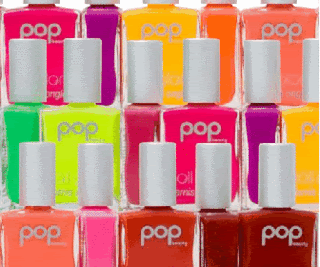 ————————————————————————————————————————————————