Almost every company and every brand put their logo on a tee shirt. That is because people love tee-shirts. There are people who collect tee shirts and just about everyone loves to wear them.
Iconic Tee Shirts
No one knows when a design will be the next hit, but when it happens, people from across the globe will order them, wear them, collect them, and they will go down in history. In this article, we will remember the 6 most iconic tee-shirts of all time. You will surely recognize these. There are literally hundreds of tee shirts that can go on the iconic lists. So, it takes a lot to make it to the top of the list. Read on to see how many of these shirts you have or have had.
Image Source: Pixabay
Rolling Stones – Tongue Shirt
This shirt is in every rockers collection. It is an image grafted to remind people of Mick Jagger and his tongue antics on stage.
I <3 NY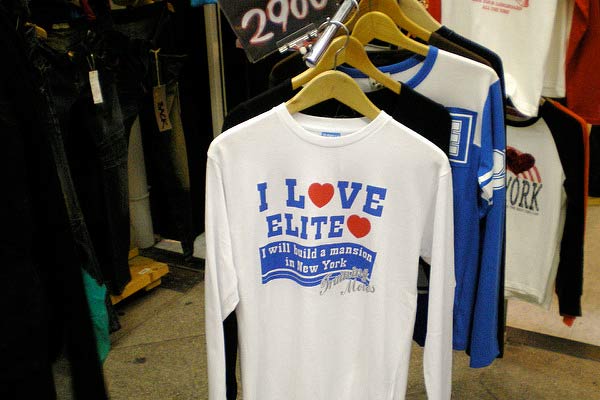 Image Source: Flickr
The I "heart" New York shirt was created in 1977. It was part of a promotional campaign that went global. Everyone who ever walked the famous streets of New York wanted a tee shirt. Even today, no trip to New York is complete without one of these shirts.
Mickey Mouse
Image Source: Flickr
The Mickey Mouse is probably the world's most recognizable mouse and certainly the richest. This shirt has been iconic since it was created in the 1940's. The mouse and shirts have changed a bit with time, but Mickey Mouse continues to be in huge demand. If you have an original Mickey design, it is highly collectable. But even the current Mickey shirt is horaded.
Hard Rock Cafe
Hard Rock Cafe goes down in history as one of the smartest promos of all time. Around the time when Pokemon cards were being collected and making huge profits, they came out with their tee shirt promo. There are 168 Hard Rock Cafe, and each of them have their own shirt. This spread like wildfire. Every collector wanted one of each of the 168 shirts. No collection is complete without them.
Che Guevara
Image Source: Flickr
It is ironic that the face that is associated as one of the most powerful leaders of communism turned out to be a symbol of capitalism. This has repeatedly made the top five iconic tee shirts.
Tuxedo Tux
It is really hard to say why this tee shirt gained so much popularity, but the dressed-up tee has shown up at weddings and graduations and is one of the most collected tee shirts there is. This shirt is so popular that it is also made in infant sizes and even onesies.
No other product in the world can touch the power of promotional tee shirts. The experts at The Tee Hive are continually coming helping clients choose the shirts that companies hope will make the mark. They never go out of style and even when they are too worn out to wear, they stay in circulation even until they become the car wash rags. This is an endless way of pointing out your brand.
No one can ever predict which shirt will be the next iconic tee shirt. One thing you can count on, there will always be a tee shirt that will hit the market and will stick. It will remain in tee shirt history for decades.