Winter is just around the corner, and most parents are surely dreading the coming of the cold season. Pre-baby, you are looking forward to all the fun that you will have the coming winter. Post baby, all you could ever think of is how you can keep your baby warm this winter season. And of course, you are already, dreading all the hassles that come with it—having to bring bulky jacket and blankets in addition to an already heavy and bulky diaper bag.
Well, I am here to help you solve this dilemma and to help you to enjoy (once again) the season that you have always loved. So without further ado, here are the tips on how to keep baby warm in winter: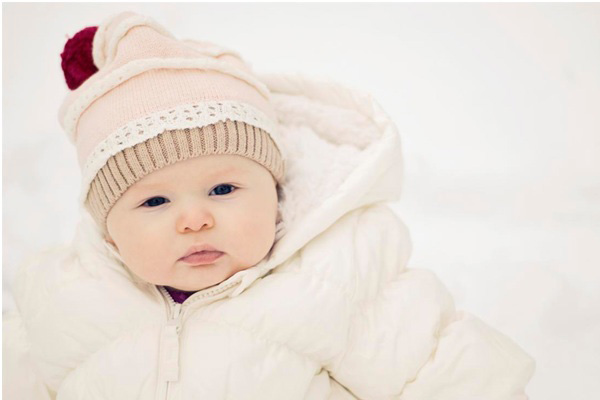 Creating a Cozy (and Safe) Sleeping Environment for Your Baby
For sure, your main worry is that your baby might feel cold at night in his crib. And most the go-to solution for most parents is to pile on the blankets. But this is a big no-no. Why? You are putting your child at risk of Sudden Infant Death Syndrome (SIDS) when you do this. In addition to this, experts also warned against overheating the room, so all of these issues make the feat a lot trickier. Well, we have found a work around for those problems. Below are some ways on how you can keep your baby warm in his crib:
Dress your baby's crib mattress in a warm flannel fitted sheet.
You can also opt for a sack or wearable blanket that can also double as a sleeper.
Warm the mattress by placing a heating pad or hot water bottle in it an hour before your baby goes to bed. Just make sure to remove it before you put down your child to sleep.
Place thick and lined curtains in the nursery to keep the space warm.
Dressing Your Baby for Winter
And of course, the most important thing of all—how should you dress your baby for winter? One concern that you would have is how to keep your baby warm all night long. With that in mind, here are some tips on how to dress your baby for sleep.
• Dress Him In a Sleep Suit
This is the perfect winter outfit for sleeping. Since this is just a one-piece suit, you are sure that no corners or piece of clothing that would come untucked. In addition to that, these sleep suits often come with turn-over cuffs and feet covers that can keep your baby's little hands and feet warm.
• Swaddle Your Baby
If your baby is still a bit young and can still be swaddled, then swaddle him up. If you are using a swaddle that is made from a thick material, you can skip dressing him up in a pajama or onesie. Just simply put some socks on his feet to keep his feet warm.
When you go outside, the temperature will be a lot cooler, so your child will need more layers of clothing. Here are some tips on how to dress your baby when you leave the house:
• Dress Him Up with Easy-On and Easy-off Pieces of Clothing
The weather during winter can be a bit fickle. Sometimes, it's too cold, and at times, it will feel a bit warmer. To ensure that your baby will feel comfortable no matter what the weather is, it would be best that you dress him up in layers and make sure that all pieces of clothing are easy to wear and remove.
One of the best types of clothing for babies during winter is no other than a snowsuit. Snowsuits are like sleep suits, and it comes with a form-fitting arms and legs sleeves. At times, this piece of clothing also has a hood. Another option is a bunting, clothing that resembles the look of a sleeping bag. However, this one has a seam between the legs for your baby's comfort. When choosing a bunting, opt for one that has a good layer of insulation and an exterior fabric that can repel snow or water.
• If You Are On a Budget, Use a Receiving Blanket Instead
If you do not wish to invest in a bunting, you can have your baby wrapped in a receiving blanket to keep your baby warm.
• Don't Forget the Mittens, Booties, and Hats
You should always protect the feet and hands from the cold. If the snowsuit has a hoodie, then you can forget about the hat. It is recommended that you bring an extra pair of mittens, especially if your child is still on his hand-sucking phase.
Take note; you should remove at least one layer of clothing once you are indoors (in the mall, restaurant, etc.) to prevent your baby from feeling too hot or sweating.
Image Source: Pixabay
Determining if Your Baby is Feeling Warm Enough
Now that you have done all the tips mentioned above, you may be wondering if all of those tips are already enough to keep him warm. Lucky for you there are some signs that will indicate what your baby may be feeling.
If the arms, legs, and cheeks of your baby feel cool to touch or if his skin is a bit blotchy, this means that he is still feeling cold. Because of this, you may carry out a few more precautions to keep him warm.
On the other hand, if your baby feels damp or is already sweating, it is one sign that he is too bundled and is not just feeling warm—he is already feeling hot. If this is the case, you should change your baby's clothes or remove a layer of his clothing right away. Too much moisture in the skin may lead to prickly heat which is one skin condition you wouldn't want your baby to have.
But if your baby's skin feels only cool (not cold) to the touch, then your baby is feeling just fine.
Yes, keeping yourself warm this winter is already hard but taking care of your baby and protecting him from the cold is a lot more difficult. But with the tips and tricks that I have mentioned above, you can be able to do that! Plus, you can get to enjoy the winter season with the entire family too!
Save
Save