Most kids are already naturally inclined towards arts and crafts, but did you know that they could have a huge impact on their development? There are plenty of aptitudes your kids can pick up from simple hand crafts that you do at home to more complex projects. But how exactly can your children benefit from arts and crafts?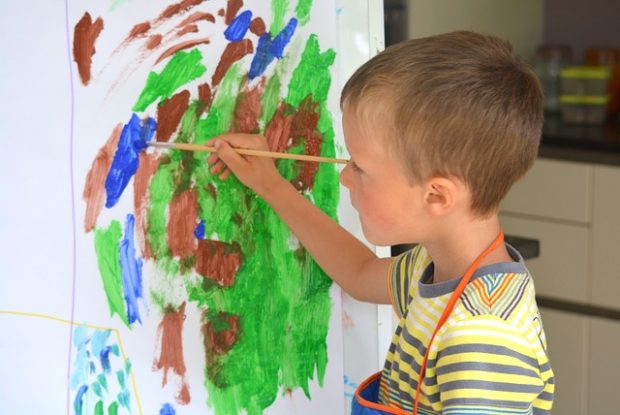 Image Source: Pixabay
Improved Coordination
As your child begins to develop, he or she will need to work on motor skills. Developing fine motor skills and coordination can take time. However, crafting that requires precise movements will allow them to improve over time. Whether they pick up small objects, use a marker to draw, or glue multiple pieces together, they'll learn how to hone on these skills which they will carry with them for the rest of their lives.
Self-Control
As you probably know, crafts don't always turn out as you expect. When you start a project, you probably have a general idea of what you want the results to be. However, often you run into problems and your project turns into a big mess. This is a great way for your child to develop some patience and self-control. They'll have to learn to wait on a project to dry or use several steps to get to the desired end goal. All of these can help your child grow. They will also learn how to deal with failure when a project doesn't end how they planned.
Self-Esteem Development
When your child finishes a project and it turns out as desired, they're going to feel a sense of accomplishment. Being able to put together a craft or draw a picture is a big step for any child. Make sure that you choose age appropriate crafts that are on your child's skill level. As your child becomes more skilled, you can gradually increase the level of difficulty.
Bonding and Fun
Crafts are a fun and easy way to spend time with your child. They're a low stress activity and a great time for you to learn more about your developing child along the way. They'll also be able to form a social circle by working on crafts with their friends, helping them to learn cooperation as well.
Self-Expression and Creativity
The early years of a child's life are an important time for developing self-expression and creativity. Arts and crafts will teach your child to think outside the box.
If you're looking for a variety of art supplies, you can visit a site like Raaaft. They have everything you'll need for your child to fully express their creativity. Arts & crafts will allow your child to express their creativity through colours, shapes, and designs. Activities like drawing and painting offer even more opportunities for your child to be expressive. This is an essential skill that every child needs to develop over their lifetime.
Although these are a few of the primary benefits you can receive from arts and crafts, there are many more. Make sure that your child has the chance to explore creative activities on a regular basis for these benefits.