Home Upgrades
You don't have to spend a lot of money to make upgrades to your home, especially if you're willing to use your DIY skills. Plenty of home upgrades cost less than $250. Check out these five home upgrades that won't break the bank.
Add a Fresh Coat of Paint
Image Source: Flickr
Painting is one of the most dramatic ways to transform a space without spending a lot of money. It only takes a couple of hours to paint a room and give it a fresh new look. Just make sure to use the right paint for the job and look for a can with low VOCs to keep your family safe. If you're trying to sell your home, opt for neutral colors so you don't turn off potential buyers.
Install New Bathroom Fixtures
Image Source: Flickr
After a few years, bathroom fixtures lose their shine and start to date your space. It's easy and inexpensive to swap them out for new ones. This also applies to your kitchen fixtures, lighting fixtures, and any hardware you have throughout your house. All you need is a screwdriver and a little time to complete the upgrades. Most fixtures cost less than $250, but the changes make a big impact.
Buy a Smart Thermostat
Image Source: Flickr
Thermostats are essential in keeping your home a comfortable temperature because they tell your AC and furnace when to turn on. However, a smart thermostat can do more. It allows you to adjust the temperature in your home remotely. For instance, if you forget to turn down your thermostat when you go out of town, you can log in to an app to adjust it. You can also adjust the smart thermostat so that you come home to a comfortable temperature. Many smart thermostats have additional controls, such as individual room temperature settings. These upgrades add a lot of conveniences and are impressive to home buyers.
Plant Flowers
Image Source: Flickr
You can do a lot to improve your home's curb appeal for $250 or less. Planting flowers, trimming hedges and edging your lawn have minimal costs, but they upgrade the exterior of your home magnificently. Better curb appeal gives your home a higher perceived value and it's a nice sight to see when you come home every day.
Add Crown Molding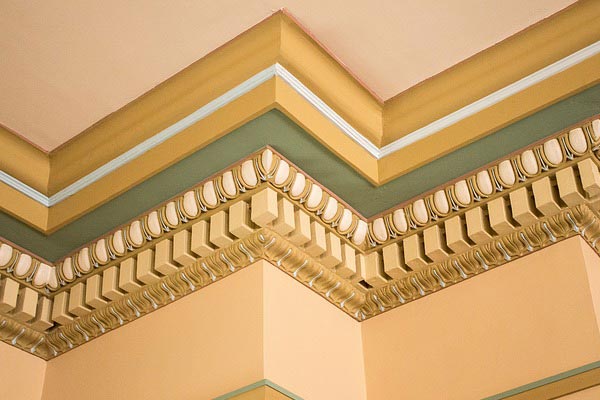 Image Source: Pixabay
Crown molding makes a space seem more luxurious. It's something that really wows prospective home buyers and adds character to your home. Plus, crown molding is a surprisingly inexpensive home upgrade that doesn't take much time to install. Depending on the molding you choose, $250 can go a long way. An added bonus is that you really only need a saw, hammer, and simple tools to complete this home upgrade.
If you have $250 to spend on home upgrades, you certainly have a lot of options. The suggestions here will help you get the most bang for your buck. On the other hand, if you are looking for a complete remodeling plan, you should visit Contractor Culture. Leave a comment and let us know.