Quite often, it does happen that you are not finished with your work within the office hours but you have to leave your office for your liabilities towards your family. This especially holds true for the working moms who are, at one and the same time, both the working ladies and the responsible loving moms. So, it is very much convenient for them to have a small portion of their house reserved for their office working so that they may be able to perform both of their roles quite efficiently. They may, at times, keep themselves off from the office and accomplish their task at their home office.
Home Office Ideas
The essence of your work always remains the same no matter at where you do it. Besides, home offices save a lot for the working moms regarding their precious time, office rent, utility bills and, above all, the botheration of traveling on daily basis. So, it is always nice to have an elegant home office idea for a working mom who can even run the whole of her business or company from her home-office. To fulfill the gallery purpose, here are 12 best home office ideas for working moms. Theses home office ideas are an excellent combination of their superb functional and decorative elements studded with an ideally good work-friendly atmosphere.
Image Source: Pixabay
1. Using under-the-stairs place: Necessity is the mother of invention and it often brings the best and most appealing ideas. Shortage of space inspires you with a great challenge and always ends with potentially great results. You may use the available space under the stairs and convert it into your home office by designing and decorating it elegantly. It will present a decent look and you will be able to undertake your office work without disturbing your family routine activities.
Image Source: Flickr
2. Gallery wall and an uplifted desk: An uplifted or mounted desk always covers less space but serves great. Just beside or along a high gallery wall, you may design a mounted desk and use it as your home office. The wall will exhibit an impressive look if it is decorated with colorful kid artwork. All white background will make the whole scene bright and soothing to eyes simultaneously. This idea also covers minimal space at home and may easily go on with your office work.
Image Source: Pixabay
3. Simple and attractive: Some home offices are quite simple in their setting and decor but very attractive and work-friendly. Besides a computer, good lighting and a power point to plug in the gadgets, its color scheme giving a sense of balance, its comfortable texture and the supporting furniture all make a superb home office which is both simple and attractive. Light grey and white colours combine well to soothe your eyes and persuade you to work wholeheartedly.
4. Using an extra wall: You can transform a spare place at your home into the most productive place by installing extra shelving and hanging a decorative curtain to give you such a home office as can serve you a lot without discomforting other family members because it allows you to keep on working at leisure for long hours. Color selection can add a bit more beauty to this home office.
5. Bedroom office: Usually bedrooms are meant only for sleeping but this is not the case nowadays. Now these are also being used as bedroom-cum-office. A computer set, an office table and a comfortable office chair in the corner of your bedroom can serve as an easy-going home office. You are in your bedroom and in your office at one of the same time and it saves you a lot of extra space.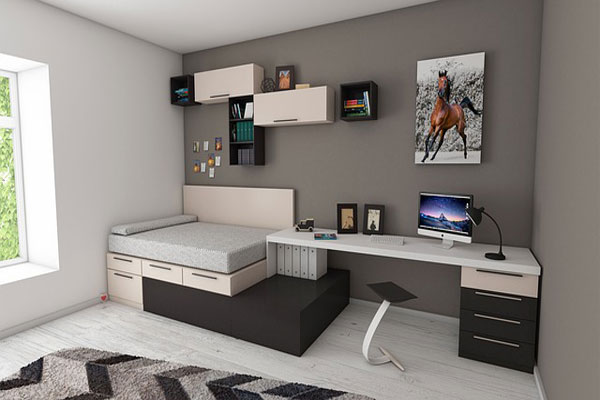 Image Source: Pixabay
6. It often happens that you don't have a large niche to fit all of your home office stuff in and you get bothered what to do now. Here, just a few shelves and drawers can do a lot to organize your paper work in a small space like you have at your home. Organization is the basis of maintaining a good working atmosphere and environment.
7. A small sidenook of your house can serve you as a very worthwhile office because a large amount of creativity can transform a spare space into a small home office. If you showcase your files and books and a vertical shelf next to an elegant desk while your magazine hang on a wooden ladder along the other side of the desk, you make a fantastic home office. A small but very comfortable chair may complete this impressive idea.
8. You may also choose a corner of your living room or lounge to manage a small home office with a carefully selected decor to make it a part of the overall design. Two average sized shelves above the small desk or table to keep the files, books or registers and a lap top placed on the desk with a comfy office chair may comprise a complete home office idea.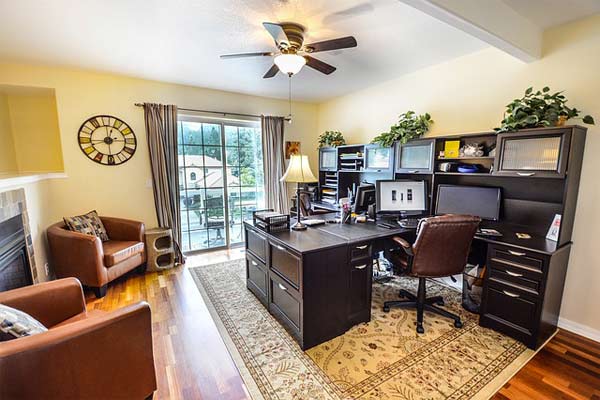 Image Source: Pixabay
9. Some houses are quite commodious where the availability of space is never an issue and you can even reserve an entire room for your home office idea to be accomplished. Here you have endless possibilities to avail in order to implement your home office idea practically. Such a room may be furnished with cream-colored furniture which may reflect natural light flooding inside. The walls above the furniture skyline may be colored gray to balance the over flooding light resulting in a calm environment to get the work done.
10. Bright and bold colors not only add character to your home office idea but also create a tension-free playful environment for office working. Keep such an attractive office with bold color-scheme less loaded with unnecessary items, for creative people often work well in a bold but simple surrounding. If colors can replace clutter, the home office will work wonders towards serving you.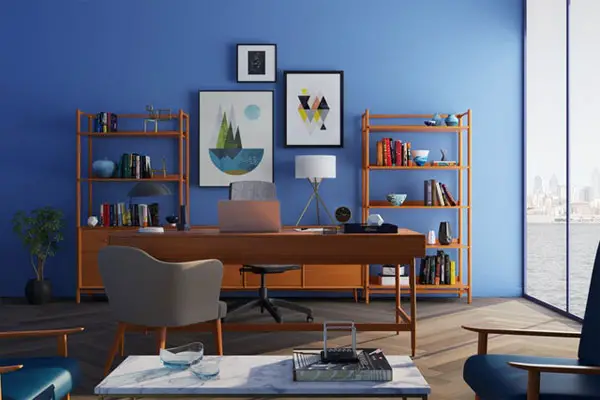 Image Source: Pexels
11. A really inspiring home office idea may take its birth when simplicity and productivity collide in interior design. Modern homes do have a margin for a home office because with the advent of modern technology, home office has become more and more important. Now our residences are both living and working spaces. So you may décor a suitable area of your home with simple but productive office-wares to facilitate you with your office work in a soothing and calm perspective.
12. The upstairs are always well-serving as home office idea. Quite often family members don't disturb you while you are working in the lit attics. There is usually enough space for storage. One attic wall may be used to store books, décor and personal items. A desk with a glass top may be clutter free to produce calm and peace. White and gray paint may be soothing and a colorful geometric rug may break the monotony and give an extra dimension to your inspiring home office idea.
So, these are exceptionally good home office ideas for the working moms.