Halloween is around the corner and we all know that it is not only a time to witness witches, ghouls and goblins, but also a great moment to spend with family and friends. Even if the kids go around the neighborhood knocking at every door for trick or treat, they are surely going to expect you to arrange a Halloween party at the end of the day. Halloween party, though largely is about having good time with your friends and family and wearing creepy costumes, it also means having good and plenty of food as well. However, when it comes to food, the party guests expect Halloween recipes to be different. So, you need to make sure the recipes you work on fall in line with the overall scary theme.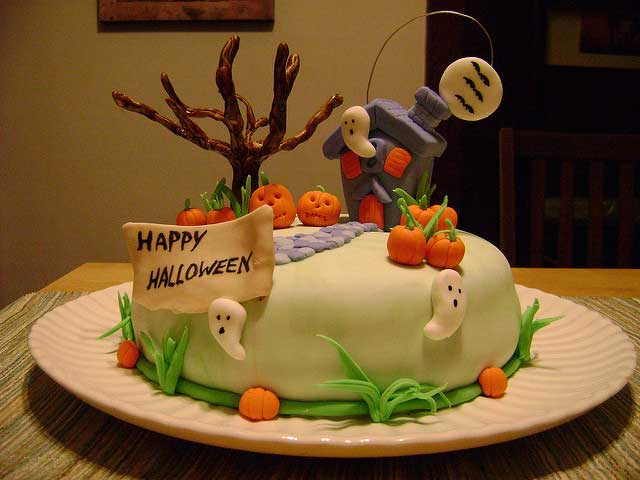 Drinks:
The first thing to serve your guests is always the drinks. So, you need to make sure you start making preparations with the drinks. Try making strawberry and cherry shakes to give a feel of blood. You can also make grape juices, pour them in transparent glasses and paste a sticker of crab, scorpion or spider at the bottom of the glasses so that when the guests drink them, they get the feel of being ghouls and witches. Also better use licorice in place of normal straws; just cut both ends of licorice and there you are. Moreover, make sure you use beakers for the juices and shakes rather than fancy jugs since the former is going to add that quirky touch, your guests expect. For all this, I advise you to use the best juicers on the market.
Main Course:
Well, the main course is the ideal thing to show your maximum creativity. Make certain you prepare sumptuous Halloween recipes and present them in a gross way. Bake pizzas but take some time out to prepare the topping. You can use black olives as eyes and tomatoes as lips on the top of cheese. Aside from this, spaghetti is one of the favorite dishes of most people, particularly kids. It can also easily pass for worms, if you make them look like that. Just allow your creativity to go wild. You can prepare hot red tomato sauce and pour it on the spaghettis. Furthermore, you can make monster toes, hot dog mummies and meaty sandwiches having eye balls stuck on them with toothpicks to ensure your guests do not remain starved at your party and could also enjoy the creepy toppings and decorations. Besides, just get Jell-O molds. They can help you in making a range of different weird shapes like eye balls, fingers etc. Put red jelly mixture in the mold, let it cool and then see the creepy look it will give.
Desserts:
You absolutely cannot forget carving out a pumpkin. Put your dessert inside the cleaned out pumpkin. Moreover, you can also bake cupcakes in shapes of big eye balls or a cake in the shape of brain etc. Cover them with white icing and red cherry sauce in a way that no one has ever done before. Basically, the purpose is to make such food on Halloween which goes well with the creepy theme. Therefore, do whatever it takes to make it appear like that. You can find hundreds of Halloween recipes on the internet as well, so check them out to get more ideas.