ProTongs from iSi $20-$30
The iSi Pro Locking Tongs are uniquely designed for professional food prep & handling as they are the 1st to be NSF approved. Easy disassembly ensures all parts can be cleaned effectively, essential for Good Hygiene Practice and HACCP policy, by hand or in the dishwasher.
The Pro Tongs edges allow for 100% control of all foods – for gentle control use the rounded edges, great for delicate handling to avoid perforation; for firm grasp use the pointed edges, best for vegetables, pasta & salad; and for precise control use the tips of the tongs. BroadwayPanhandler.com
.
Grill Mates from McCormick – Prices vary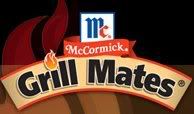 "For those who love to grill, these flavors will take your grilling to the next level" – McCormick.com
As a child, I remember spending the summer in our backyard with our mouths watering from the smell coming off of the grill. And who was the Grill Master? My dad of course! Now that I have my own family, the same tradition has followed. Every warm weather weekend we are blessed with, my husband is in the yard grilling. He takes pride in his meat masterpieces, so much so that I'm not even allowed to prepare it, he claims to have secret sauces and spice blends that only a true man could concoct. From my experience, this is what goes on in household across America, am I right?
When it comes to flavor, who knows it better than McCormick, the leaders in spices, seasonings and flavorings? With the spicy "made for grillin"  line, dads from all walks of life can easily prepare their top-secrect marinades, sauces and rubs.
Learn more about McCormick Grill Mates and enter the

Grill Mates Giveaway

!
Australian Lamb – Fresh, Easy, Delicious
For the dads who enjoy cooking, I mean really enjoy cooking, I love the idea of putting together a gift basket filled with culinary tools, gourmet cookbooks, specialty ingredients, and other kitchen accessories. Of course you can find pre-made baskets, but not only will creating your own be more personal, but it will also be a lot more economical.
All of the products featured in our Gourmet Dad guide would make a great addition to a Father's Day gift basket and here's one more.
Australian Lamb is filled with facts and recipes all using delicious lamb imported to the US from Australia. Aside from nutritional and taste benefits, you can also find a plethora of resources to help you put together a great gourmet gift for dad. There is even a forum to help you get ideas for recipes, ideas and more if you are less familiar with cooking with lamb.
Gourmet Brownie Tray from The Brownie Lady – $29.95 – $54.95
Does Dad have a sweet tooth? Satisfy his cravings this Father's Day with a batch of the most delectible brownies from The Brownie Lady. No matter what type of "Brownie Man" Dad is, you're sure to find a variety to please with options such as Coconut Brownies, Amaretto Brownies (A Dad Favorite!) and Truly Nutty. Each brownie order comes in a georgous tray for gift-giving with multiple themes available. The Brownie Lady brownies would also make a great gift for Grads! Nothing like a little comfort food after a hard years work!

Travel Press from BODUM – $14.95
For all the coffee-loving dads – BODUM, the leader in award-winning home design, has just released their Travel Press. True coffee lovers will appreciate the convenience of having freshly brewed coffee on-the-go in four minutes, wherever they are. How does it work?
"For those in a run, the TRAVEL PRESS is  quick and easy to use – add coarsly ground coffee, pour in hot water, seal the lid and give it a go! After four minutes, regardless of where you are, press down on the plunger and enjoy. For those that prefer tea, the TRAVEL PRESS works equally as well." BodumUSA.com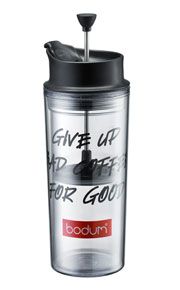 My personal favorite is this Travel Press shown here with the slogan "Give up bad coffee for good", but it is also available in eight vibrant colors with non-slip silicone grips and it's even available with a empty chamber that you can slip your favorite photo into. Great idea for traveling dads!
The standard size BODUM Travel Press holds 16oz. of liquid, but also available is the Mini Travel Press which holds 8oz.
More great gift ideas from BODUM:
The Mom Fuse Father's Day Gift Guide is being sponsored by got-free-ecards.com, your ultimate resource for free Ecards and greetings. Got-Free-eCards.com is easy to use and offers the widest selection of Free Printable Cards, Free Fathers Day Ecards, Free July 4th Ecards and Free Birthday Ecards.
Be sure to enter the Mom Fuse Got-Free-eCards.com Giveaway for your chance to win a $100 Amazon Gift Card!