Garage Space
For most, the garage is an area of the home that receives little attention or thought. It's strictly meant as a place to keep your car or use as additional storage. What about those, however, who don't need all that extra space or don't own a car? Should they just consider their garage a lost cause and a waste of space? Absolutely not! Rather than thinking of your garage as just a home for your car, think of it as an opportunity to create a unique space outside of your home. And how do you do that, you ask? With the help of Sears Garage Doors, here are some wonderfully unique ways to use your garage space, other than for just your car.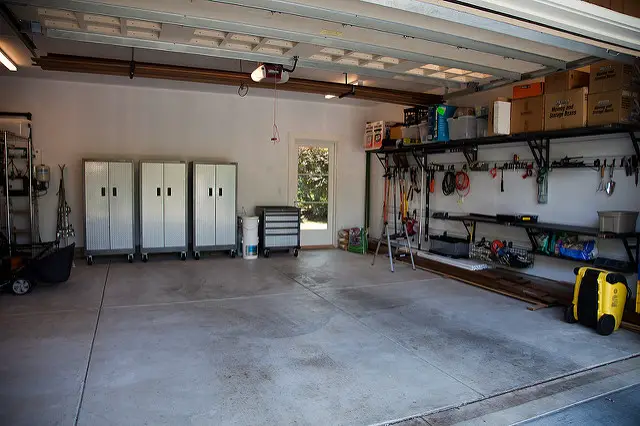 Image Source: Flickr
A Place to Show Off all the Exciting Activities You Like to Do
Think of your garage as a huge trophy case. Do you love fishing or skiing? Display all of your equipment nicely on the walls for easy access. Are you a handy DIYer? Create a space to keep all your tools. Are you a gardening guru? Use your garage to organize and store all your equipment, soil, pots, and seeds. There are plenty of creative ways to keep your garage organized so that you can create a very nice looking space, show off all your favorite hobbies, and have a practical way to store large equipment that may not fit inside your home. Just head over to your local hardware store and pick up hooks, shelves, cabinets, and anything else that catches your eye!
An Arts and Crafts/Experiment/Project Space
A garage is the perfect place to get your hands dirty and experiment. Take advantage of this unfinished space that is easily hidden from guests and visitors and turn your garage into a place to complete projects. Get a big workshop table to keep in the middle of the room and organize your favorite crafts and tools along the walls. Designate this space as an area where it's ok to make a little bit of a mess, and get ready to create some new masterpieces!
A Dining Hall or Party Room
Love the idea of having a separate special occasion or party room in your house? A room where you can entertain in style and not have to worry about having too many people? A garage can be the perfect place for this! Add some tables and chairs and even a bar area and you will be all set to be the best host on the block.
A Home Office
If you have the opportunity to work from home and love the idea of it, but can't imagine how you'd possibly get any work done with your family around all the time, set up an office in your garage. You'll still be right at home, but will be able to get the privacy and the quiet space you need to focus and get your work done.
A Gym
Gym equipment is big and bulky, so it's tough to find extra space inside your house for a treadmill or stationary bike. A garage, however, is the perfect size to keep all of this equipment and get your workout on without having to leave the comfort of your own home. Plus, just think of all the money you'll save on gym membership!
A Kid's Playroom
Do your kids have so many toys that they're beginning to take over your house? Why not set up your garage as a playroom for your kids? Not only will this clear your house of clutter, your kids will love this separate area for themselves, especially as they get older. If you really want to impress, you can even add a pool or ping pong table. This separate kids' area give you some space and some peace and quiet, and as an added bonus, you will certainly become known as the coolest parent around.
If your garage is too tiny to make these ideas work, you can always rent a storage unit for as low as $29 a month. We like to use www.selfstoragefinders.com since they give a triple A discount. I wouldn't recommend ALL of these ideas for an outside storage facility of course but you could easily keep all your arts and crafts (and finished projects) in one. Depending on where you live, it might be better off to use something besides your garage unless your garage has heat.
Save