This contest has ended, winner will be announced shortly!
And the winner is…
I like the colors in the LIME! 15″
Congratulations Erin!!
From the "Gifts for the Hi-Tech Dad" Gift Guide – LArobe Notebook Sleeve from be.ez
Initially designed for the Apple notebooks, LArobe is made in a soft, shape-memory material, ideal to dress your notebook in an original fashion while protecting it from mobile life worries. Available sizes – 13.3″ & 15″
Product Highlights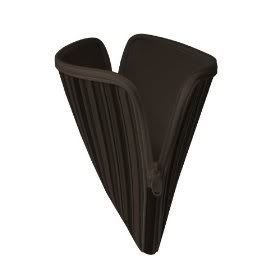 Low Resilience Polyurethane (LRPu) Technology
Robe protection Thickness 5MM
Trendy, Unique Design
Inner Lip for maximum protection
Stand alone or in your bag
No more Scratchs for your Notebook
For one of the largest selections of Apple notebook and notepad sleeves, visit be.ez, where style and function collide.
The Giveaway! We're giving away a LArobe Allure Notebook Sleeve, the perfect gift for any techie dad and at only $30-$35 each they work great for any size budget.
How to Win!
You Must: Visit be.ez and check out their insane selection of notebook and notepad sleeves. Come back here and tell us which one is your favorite.
Extra Entries (optional)
1. Subscribe to the Mom Fuse newsletter.
2. Tweet this!
RT @NicoleMomFuse – Visit @momfuse to win a LArobe Notebook Sleeve and over 20 other manly prizes for dad! www.momfuse.com
3. Grab our button (link to https://momfuse.com) and post it on your blog. Don't have a blog? Click here to email this page to five or more of your friends. Be sure to leave my email address in the "send" area so I can receive a copy too! If you do both (grab button & email), be sure to leave two comments for two entries.
Rules & Reminders
Contest ends 6/19 – Winner will be announced by 6/22

Comments not adhering to the rules will be deleted

Sorry, this contest is open to US residents only
The Mom Fuse Father's Day Gift Guide is being sponsored by got-free-ecards.com, your ultimate resource for free Ecards and greetings. Got-Free-eCards.com is easy to use and offers the widest selection of Free Printable Cards, Free Fathers Day Ecards, Free July 4th Ecards and Free Birthday Ecards.
Be sure to enter the Mom Fuse Got-Free-eCards.com Giveaway for your chance to win a $100 Amazon Gift Card!