Family Rug
When you've got a family to consider, it can often times feel like your home takes practicality over style. With kids leaving their toys all over the place and messy meal times, your home decor easily takes the back seat. It doesn't have to be this way as there are plenty of ways you can keep your home looking stylish all while keeping the busy family life in mind. A great place to start is with a new rug. Rugs are incredibly practical, offering sound dampening, insulation and floor protection. Most of all however, they bring a little bit of design to a room. With that said, here are some of the things you should be considering when shopping for your new family rug.
Colours
Image Source: Flickr
Arguably the most important factor to consider, the colour. This is something that is entirely dependent on your tastes and design needs, but there are generally some good tips to follow when it comes to the colour of your new rug. It's not surprising to learn that the lighter the colour, the more you run the risk of stains or imperfections. While these are an unavoidable truth of family living, choosing a rug colour that is a little more forgiving on this front is a must. Naturally, white is out and so is any other pale or light shade. Instead, try a grey rug if you're still wanting a more neutral look. Grey is a fabulous colour that matches well with any interior design and is available in a huge range of shades for varying aesthetics. Plus, with Scandinavian and rustic trends on the rise, a grey rug has never been more in fashion. This therefore gives you that practical colour with design in mind.
Material
Image Source: Flickr
Up there with colour, the material is equally as important. As much as we love them, shaggy rugs aren't the best idea for family homes. Their thick texture easily traps dirt and dust which isn't ideal if your kids spend a lot of time playing on the floor. Similarly, the thicker, fluffier material will become increasingly worn with such a busy home so that texture that you originally bought the shaggy rug for would be lost. Therefore, a rug with a shorter pile such as a hand woven or knotted rug would be your best bet. These are sown tighter together and give extra durability that will see your rug last for many years.
Maintenance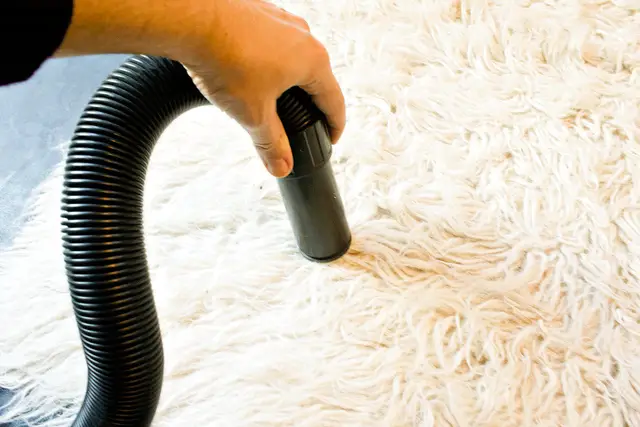 The dreaded word; cleaning. Obviously, with a family home, cleaning can feel like a never ending chore. That's why your rug needs to be easy to care for. There is however some great news as the more expensive the rug, the harder it is to clean. That's because more expensive rugs use richer materials that need some extra TLC. Cheaper, more accessible rugs like nylon or acrylic are so much easier to clean as they can handle everyday cleaning products with ease.
There you have it, a few things to consider when looking for a family friendly rug. Just because you have a family doesn't mean your home can't be at the envy of all who visit!