If you are planning a family vacation in Italy, well you couldn't just go wrong with your holiday. After all, there is so much to do and explore here in the original land of the Bambino. Children would love beautiful destinations as well as the colors of Italy. You will find an array of hotels and rentals in Italy that are just perfect through the eyes of a child. Get ready to enjoy a gondola ride in Venice or enjoy country's culinary specialties. If you would like to explore the wonders of the world with your kids, the right place to make a good start in Italy. After all, many cities in Italy boast of extraordinary sights and experiences. There are museums, beach sides, canals and gondoliers and those ancient villages. Thus, Italy is sure to promise you extraordinary sights and experiences whether you are in urban or rural sauces.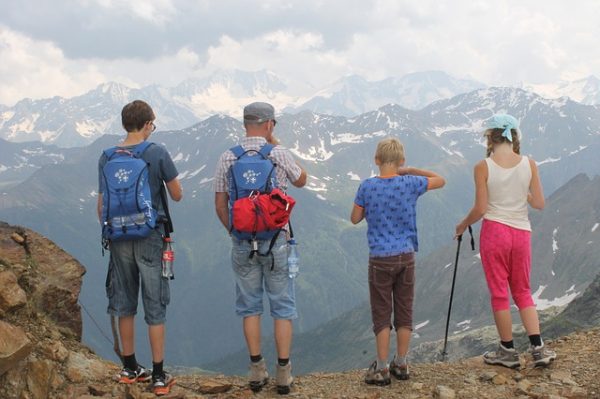 Image Source: Pixabay
Where to Head for the Best Adventures
Italy can be vast for your children and rich in diversity. Based on what you want to do and what your kids love, it is best to head for the region that suits your preferences as a family vacation. Rome & Lazio are best if you want to explore world-class museums and are traveling with older children. If you kids love beaches, then head towards Puglia, Basilicata & Calabria islands loaded with seaside scapes and towns. Sardinia Alfresco paradise is excellent for families looking for water-sports action and scenic hikes. Naples & Campania are known for their Pompeii and Herculaneum gladiator battlefields and volcanoes and coastal caves to offer a natural high drama. Sporty teens looking for adventure and beachside fun can head for Sicily and enjoy looking at the volcanoes, ancient ruins and hilltop castles.
What You Can do in Rome
Rome has lots of options for the whole family. You can plan a tour keeping in mind the whole family and the children. One can go underground at the Colosseum or become a gladiator for a day! The choices are indeed endless. You can take an exclusive after-hours tour of the Sistine Chapel to avoid the crowds. Explore the essential galleries and the Raphael Rooms. Want to be a Roman gladiator for a day? Well then, be a part of this unique interactive adventure in Rome's Gladiator Museum. Dress like a gladiator and take a lesson in the training arena. It is indeed a great and enjoyable fun activity for the whole family. Another good idea is to explore the city as a passenger of Vintage Fiat 500 and view some of the top attractions of Rome.
For Great Fun Outdoors
Families with children, out on holiday in Italy can look forward to water sports, horse riding, rock climbing and caving adventures. Head for the volcanic islands off Sicily that are famous for their volcanoes and black-sand beaches. It is indeed a great experience to hike through the forests and up towards the volcanoes. You can take Dolomiti di Brenta bike tour and cycle through orchards and farmland. Children would love the fresh air as well as enjoy the fresh produce of the local orchards on the way. You can also plan a customized sailing or kayaking tour across Venetian waters in your own personal kayaks. There are plenty of water sports, climbing, mountain biking, canyoning to do in Maggiore & Lago di Garda Lakeside beaches. Look forward to plenty of paragliding, swimming, horse riding, easy cycling and even donkey spotting. This is going to be a holiday your family is never going to forget! You can navigate the narrow streets of historical center as a passenger on the back of a Vespa. There are a number of family-friendly itineraries that are suitable for all kinds of families and with kids of all age groups.
For Great Cool Climbs
Enjoy some great hiking and climbing experience while in Italy. Fro, you are never going to get the same experience anywhere else. You can climb inside the dome of the most spectacular church in Italy, the Brunelleschi's dome in Duomo. Or, you can down to Palermo's catacombs where you can see some mummies and find more catacombs beneath. Take a gripping guided tour of Napoli Sotterranea in Naples. Walk through the secret trap door, sacred catacombs and war-time hideouts. Do not miss out on the Leaning Tower of Pisa. If in /Venice, you can climb inside the digital clock, which happens to be the world's first. Watch the two bronze Moors hammering out every hour and examine its Renaissance mechanisms. It is a complete thrill for active teenagers to take a guided tour to of the volcano firework-spitting crater in the Aeolian Islands.
For Great Food
Italy is a name that has become synonymous for pizzas and pasta. Kids would love tasting kinds of pasta in different shapes and colors. Favorite addresses for Pizza in Naples, which are known to be the best include Starita and Pizzeria Gino. This is the best way to let your kids enjoy aesthetic pasts and pizzas along with the local vegetables. Participate in Gelato-themed tours, or you can make your Gelato with masters. There are plenty of Kid-friendly food tours and cooking classes where the whole family can participate. Visit the Baci Perugina chocolate factory and take part in chocolate-making workshops. It would indeed be a unique experience for the entire family as they bond together and create some wonderful memories. One can take Gelato classes or pizza-making classes with a professional pizzaiolo.