As a parent, it can sometimes feel as though you have the entire world resting on your shoulders. You have children who depend on you, and rely on yourself for everything too: from keeping them healthy and well fed, to providing them with activities to keep them occupied and their minds stimulated. On top of all of that, you also have to run a household, which means keeping the bills paid and the house organized, all the while knowing that no one really realizes just how much work goes into all of this.
Family Bonding Activities
While you are juggling all of these day to day activities, it is easy for you to run out of time to properly check in with each member of your family, and it can be difficult to find ways for you all to bond as a unit. Everyone has their own activities to be getting on with, and their individual responsibilities to keep on top of, but it is also essential to make the time to come together as a family and create collective memories. When you finally find some downtime, it is important to make the most of it, so here are a few ideas of fun activities you and your family can participate in, in order to help to bring your closer.
Arts and Crafts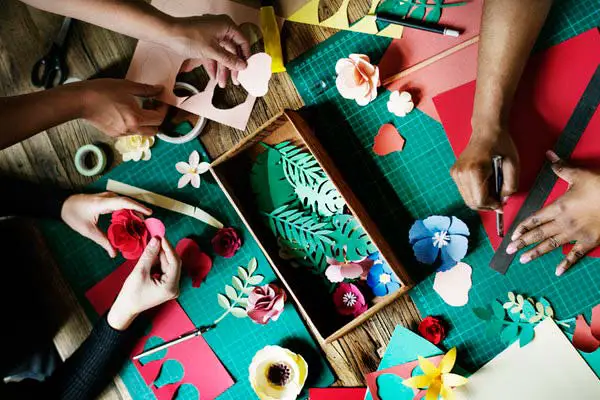 Image Source: Pexels
Artistic activities provide a wonderful opportunity for children to fully express themselves. Sometimes children can have difficulty conveying what they think verbally, especially at a younger age. However, being creative gives them an outlet to portray the world from their perspective, and set their thoughts and emotions down on paper.
By working together with your children on arts and crafts activities, you are finding a way to bond with them without the need for too much verbal communication. However, if you do want to talk to them, then art provides a distraction for them to be able to open up without overthinking the conversation. These sorts of activities are great for bonding because you are creating memories together, and will have something to show for it in the end. A great idea for a crafting activity is to create a scrapbook together, and then as your children grow up, you can look back through it together over the years and reminisce.
Games Tournaments
Image Source: Flickr
There are a whole host of fun games which you can engage in as a family, but if you want the activities to last longer and stretch across the whole day, then why not have a games tournament? Come together as a family and write down all of your favorite games to play and activities that you enjoy, then come up with a timetable for an events day. If the weather is good, you could even take the games outside to include more physical activities and sports into the day.
Include regular breaks for snacks and downtime, as eating together as a family is also really important for bonding. You could either split the family into two teams, or compete as individuals. After all, there is nothing wrong with some friendly competition! Come up with a few prizes to give away at the end, to give away to the tournament winners, but also for things such as 'Hardest Worker' or 'Best Team Player' to boost morale at the end of the day.
Escape Rooms
Escape Games are a fun-filled, thrilling adventure activity where participants role-play different scenarios. As a family, you will have to solve puzzles, unravel clues and seek out answers to riddles in order to escape from a room of your choosing. This is an exciting and unique activity which will allow children to use their imagination as they take on the role of a specific character. This will bring you together as a family as the game requires teamwork in order to succeed. Children of all ages can play as long as those under the age of 14 are accompanied by a parent or guardian. Choose a scenario which appeals to you, whether you want to play spies or hostages, and beat the game together!
Cooking and Eating Together
Image Source: Flickr
Often you don't get to see that much of your children because you are busy in the kitchen doing meal prep and cooking. However, if you include your children in the kitchen work from time to time, then you will get to see more of them. Teaching your children to cook from an early age gives them independence and provides them with important life skills. Try and make the experience as fun as possible to keep them engaged, but also remind them of the importance of health and safety, and make sure they are supervised if they are near dangerous equipment.
Baking is a particularly fun activity for children in the kitchen; they can get to see what ingredients go into their favourite desserts, and mix it all together and even lick the bowl at the end. If you bake cakes, why not decorate them together to really get your children actively engaging in creative tasks. Once all the cooking and baking tasks have been completed, then remember the importance of sitting down as a family to eat dinner together. This is the best time to communicate with one another and share how each of your days went.
Relaxing Activities
Image Source: Flickr
Not all family activities have to be fast paced and high energy, you can also relax together too! If you don't have time to organize anything to do together, something as simple as a family movie night will provide you with downtime together, and you could even make it a family tradition once a week, where everyone takes it in turn to pick a film. Alternatively, you could do something similar with books and read together; pass the book around in a circle and let everyone take turns reading a few pages. This will also be beneficial to increasing your children's literary abilities. If your children are too young to read themselves, then you could always just read aloud to them.
The important thing about coming together as a family isn't taking part inexpensive activities, but rather making time for one another. Try to include a range of different activities to increase diversity and engage your children's minds, while also getting to spend time with them.