Microdermabrasion is a hot topic at the moment. It's the go-to treatment for a dull complexion, uneven skin tone and texture, age spots, acne and injury scars, and melasma.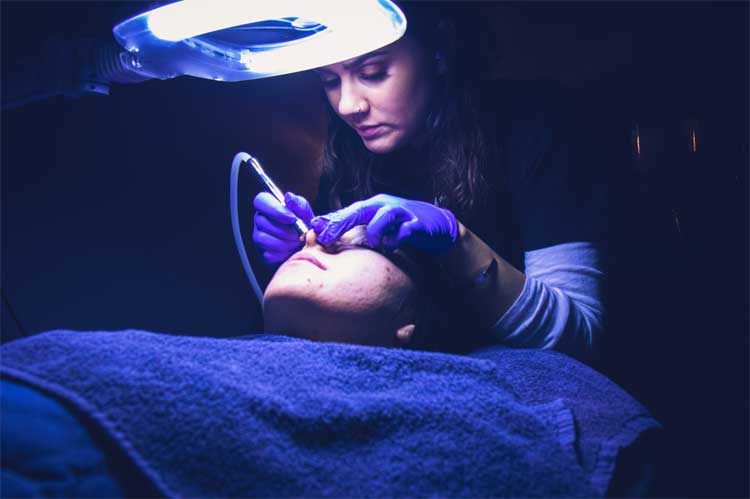 The procedure gently exfoliates the skin with fine crystals removing the top layers of dead skin cells. Using skin-bleaching or anti-aging products after treatment will help the skin absorb them.
Here's everything you need to know about the treatment.
What Is Microdermabrasion?
Microdermabrasion is a treatment that removes the topmost layers of dead skin, stimulates blood flow, encourages healthy new cells, and increases the levels of collagen and elastin for beautifully plump skin.
What Is the Treatment Procedure?
The treatment involves a fine crystal dust that is blasted onto the face and neck to scrub away dead skin cells. The skin is gently sanded to remove the thick top layers of skin cells to promote a more even skin tone, improved pigmentation, reduced pore size and clear blackheads, and light scarring.
Once the abrasive stage of the treatment is complete, your practitioner will use a fine suction nozzle to remove any excess crystals and promote lymphatic drainage. At the end of your treatment, your skin specialist will apply an anti-aging serum infusion to protect and rejuvenate your skin. For more information on the treatment process, check out microdermabrasion Brisbane.
The procedure should not be painful but can sometimes feel a little scratchy. It should take up to an hour to exfoliate your skin. After the treatment, you may have slight sunburn-like symptoms, and you might experience some slight swelling for a couple of days.
Typically each treatment is carried out between two weeks and one month, depending on your skin type and the reason for treatment. Your skin specialist can not only carry out microdermabrasion techniques on your neck and face but can also target other problem areas and even combat fine stretch marks.
What Are the Benefits of Microdermabrasion?
Microdermabrasion is a clinically proven treatment that facilitates smoother skin, reduces pigmentation and pore congestion, and stimulates elastin and collagen production. It's important to choose the right skin specialist, especially if your skin is sensitive or you experience skin problems.
Mild acne, light scarring, and congested skin can really benefit from microdermabrasion, but if you have more severe acne, then the treatment could inflame your skin and cause irritation.
Discuss your skin challenges and goals with your practitioner, and they will be able to create a treatment plan that will benefit your skin type. For example, if your skin is particularly damaged and sensitive, the treatment can be gentle. If your skin is classed as normal, it can likely tolerate stronger treatments to reach your goals.
Microdermabrasion is not recommended if you suffer from eczema, rosacea, sunburn, active herpes, lupus, psoriasis, or you have fragile capillaries or acute acne.
What Does Microdermabrasion Feel Like?
The treatment has been likened to a cold walk on the beach on a windy day. You might feel a slight tingling, but that is the mild suction that can be a little uncomfortable. You'll probably feel it a little more around the fleshier areas of your face, like your cheeks and nose. It's not altogether unpleasant. Your skin will feel tight, squeaky clean, smooth, and polished after the treatment. You'll be positively glowing.
Is Microdermabrasion Safe?
As with any skin procedure, there is always a risk of irritation, dryness, and redness. However, these symptoms shouldn't last too long. The whole purpose of microdermabrasion is to activate your skin cells to stimulate the growth of new cells that will make you look more youthful. It's always recommended that you use a professional and reputable clinic. If the microdermabrasion treatment is too aggressive, you might experience irritation and inflammation, which can trigger darker pigmentation or broken blood vessels. It is very rare to experience any long-term damage.
What Is Recovery Like?
There is very little downtime, so you can even sneak in a session during your lunch break. You might feel a little rosy, flushed, and swollen, but generally, this will subside within a couple of hours. As your skin heals, it might appear a little dry and flaky, so make sure that you moisturize well. It's important that you use sun protection because your skin will be delicate and sensitive to the sun's rays after the treatment.
What Are the Risks and Side Effects of Microdermabrasion?
There are very few side effects and risks that you may experience after your microdermabrasion treatment. You might notice increased sensitivity of the skin to sunlight, a slight burning or stinging sensation, skin swelling, dryness, redness that looks like mild sunburn or bruising. If you have any concerns, speak to your skin specialist after a couple of days.
If you are taking any medication for acne, discuss this with your specialist during your consultation. Microdermabrasion may not be suitable if you scar easily or have cold sore breakouts.