Though the digital age has made quick computing and instant communication simpler than ever, we're still waiting on someone to write the book on how being a modern mom can be made easier. Being a mom is a lifelong career worth all of the hard work, sweat, and tears, but can sometimes put a hold on previous passions that were easier to wholeheartedly pursue before children. Closet curation is one of those things. Adding more mouths to feed and more bodies to dress into the equation can turn simple shopping trips into dreadful escapades. Between picky kids and strains on time, hitting the mall just isn't as straightforward and relaxing as it used to be. Luckily with the boom of online shopping, treating yourself to a virtual spree is as easy as turning on your PC. With these five essentials, you can modernize the mom in you!
Instant Pot Pressure Cooker
It's no secret that pressure cookers make meal prep and dinnertime easier, so it's no wonder why so many rave about Instant Pot's pressure multicookers. Go beyond rice and stews and cook up to 70% faster with 15 PSI precision cooking. You would never believe the gourmet meals you can make with one of these smart multi-use pressure cookers. Whether you've got a holiday Crock Pot dinner on the agenda or have a delicious homemade yogurt recipe bookmarked on your phone, the Instant Pot pressure cooker is your one-stop shop for all your favorite cooking endeavors!
All-Occasion Footwear
Decision making is hard and busy moms are usually far too concerned with a dozen other decisions than picking out which shoe to wear on a last-minute date night. Spending all morning, day, and night on your feet gets tiring, so it's only fair to protect your feet with a comfy pair of shoes in order to keep those dogs from barking at you the next day. We recommend narrowing it down to two essential styles—sneakers and flats. Both are easily pairable with almost any casual or dressy outfit. A fashionable pair of pointed toe flats can provide supreme comfort while acting as the elegant finishing piece to your nighttime ensemble. A simple pair of slip on sneakers work as well on your morning walks as they do when you're running errands. Mom's on-the-go should always keep travel in mind when buying comfy shoes, if you can't last 30 minutes walking around in them, you certainly won't be able to last hours walking the Roman Forum!
Keurig Coffee Maker
If you're the type of Mom who needs her daily coffee, latte, or cappuccino to start the day, upgrading your mediocre coffee maker to a state-of-the-art industry leading Keurig machine may be the step into modernity you need to take. Keurig has become a household name and item that people across the country depend on for the brew and froth they crave. These single-serve makers save you from the horrendously long lines at Starbucks and allow you to customize your drink without any added frustration, repetition, or judgement.
Google Home Hub
Your mornings are busy and your nights are, too! Between soccer pickups and meal prep, you've always got plenty on your plate to handle with already full hands. Lighten your load by adding another member to the family. The Google Home Hub works to personalize your morning routine and set up reminders for last-minute appointments. You can even set up voice commands to adjust the lighting in your home and enhance ambiance by requesting a smooth jazz playlist. Gorgeous visuals and crystal-clear sound make the Google Home Hub one of the coolest home additions.
Foreo Face Cleansing Brush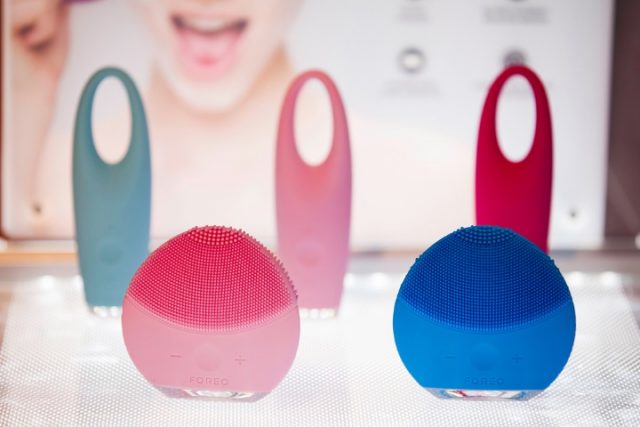 Daily face washing routines sounds perfect in a perfect world, but the reality is that when bedtime hits, you don't want a five-step process separating you from your bed. Simplify your skincare with a Foreo Luna brush. Made with non-abrasive silicone bristles, this electric cleansing brush gives you the deep clean you want in half the time a normal brush could achieve. Perfectly sized to fit the palm of your hard, the Luna in all its many forms is a handheld anti-aging massager and mini-spa treatment in one. Whether you have oily, dry, or combination skin, the Foreo Luna handles all skin types with ease. Your skin will look and feel younger than it has in years!
Though there's no handbook on how to be a mom in the 21st century, there are so many tools out there that will always point you in the right (and most digitally efficient) direction! Use these time-saving tricks to free up your routine, hit the mall, and return to the fashion-forward self you once were!