This post is sponsored by ConAgra.
Want to spice your breakfast up a little? Try these Egg, Sausage and Queso Sandwiches!
I am all about breakfast. Breakfast is one of my favorite meals and I could have breakfast food all day long. I've noticed that breakfast sandwiches are really popular here in the Midwest and I can definitely see why.. they're quick, easy and delicious!
Breakfast sandwiches are some of the best for our mornings because it seems we are always in a hurry during the morning hours before school. Having breakfast sandwiches are quick and easy, lots of times you can make them ahead of time too, freeze them and then grab a few when you need them. They're perfect for busy mornings!
Chef Billy Parisi's has created a wonderful breakfast sandwich… It's an Egg, Sausage and Queso Sandwich. The recipe includes directions on how to make it from scratch, including the delicious biscuits! Chef Billy grilled the sausage in a cast iron skillet on the grill but if the unpredictable Midwestern weather doesn't allow, an indoor grill pan will work just as well.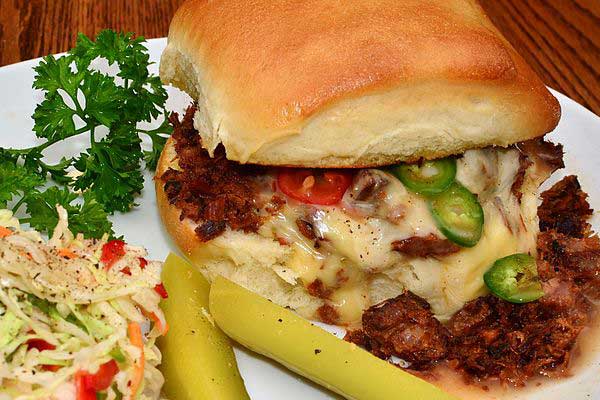 Image Source: Wikimedia
I know you want the recipe so here it is!
Egg, Sausage and Queso Breakfast Sandwiches
For the Biscuits:
3 cups of all-purpose flour
2 tablespoons of baking powder
2 teaspoons of Kosher salt
10 tablespoons of ice cold unsalted butter shredded on a grater
3⁄4 cup of sliced green onions
1 cup of whole milk
3 eggs
For the Sandwich:
10 eggs
1 tablespoon of unsalted butter
1 pound of Odom's Tennessee Pride® Mild Country Sausage, cut into 10 slices
2 pounds of pasteurized prepared cheese product cut into 1" chunks
4 ounces of cream cheese
2 cans (10 oz each) RO*TEL® Original Diced Tomatoes & Green Chilies
1⁄2 cup of small diced sweet onion
sliced green onions for garnish
Serves 10
Procedures:
Preheat the oven to 375°
Biscuits: In a large bowl mix together the flour, baking powder, shredded ice-cold butter, green onions and
In a separate bowl whisk together the eggs and milk and pour them into the center of the flour well.
Use a fork to combine the ingredients.
Once combined sprinkle some flour on a clean surface and slightly roll out the dough until it is 1 inches thick,
Use a circle cookie cutter to make a circle that is about 2 inches across and place them on a sheet pan lined
Bake them for 25 minutes or until golden brown on top. Remove and slice in half.
Queso: Add the cheese product in chunks, cream cheese, strained RO*TEL and sweet onion to a medium sized pot and cook on low heat until melted and combined. Keep warm.
Grill the sausage patties on high heat until grill marks are achieved and the sausages are cooked through.
Set aside and keep warm.
In a large cast iron skillet on the grill on high heat, melt a 1/3 of the unsalted butter and cook the eggs until the desired amount of doneness is achieved. Repeat the process until all of the eggs are cooked.
To Plate: Place a sausage patty down on the bottom part of the biscuit. Add on the egg and top off with 2 ounces of the Queso dip, and the other half of the biscuit. Enjoy!
We have a few different twists on this one!
Break it all up and put it together as a casserole with the Queso sauce drizzled on top.
Instead of the biscuits, use the ingredients to make it a Queso burrito.
Visit www.forkful.com for additional recipe ideas, grilling tips and inspiration.