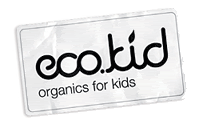 "A child's skin and scalp produces almost six times less oil on a daily basis than an adult's and can be sensitive to synthetic perfumes, colours, preservatives, heavy film-forming conditioners and aggressive surfactants. eco.kid is an organic, healthier, biologically friendlier and more effective product range formulated exclusively for the hair, scalp and skin of children aged 3 to 12 years old and so is able to help prevent common problems faced by this age group. eco.kid… prevention is better than cure. – EcoKidOrganics.com
Prevent Shampoo: A gentle plant derived shampoo specifically formulated to use everyday on young skin. In one step you can cleanse deeply and help protect effectively against head lice infestation; excellent peace of mind when a high probability of head lice exposure exists. The probability of head lice exposure increases during warmer weather, contact in the classroom, active outbreaks, school camps or sleepovers, etc. It is suitable for use by the whole family and should be used to reduce the chance of cross infestation to parents and siblings when head lice are prevalent. Prevent contains no artificial preservative, colouring or fragrance. Prevent is readily biodegradable and waterway friendly.
Nourish Conditioner: It is a naturally derived and deep moisturising. It adds strength and vitality to young hair. It contains no artificial preservative, colouring or fragrance, is proudly readily bio-degradable
and waterway friendly.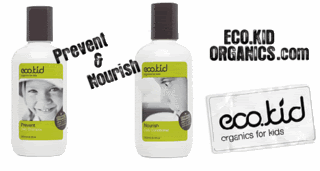 The Sassy Southerner – The shampoo is designed to help prevent an outbreak of headlice. This I absolutely love because I loathe headlice. When in the third grade, Jelly Bean got it from so kid and it took me forever to get rid of it. And I hated to have to use all the pesticides and stuff just to get rid of them. But with EcoKids their products contain no pesticides. Every single item in their line is naturally derived from plants and their extract.
The shampoo lathers just like any other shampoo. It's a little thicker. The only complaint I have about the shampoo is the scent. It smells like lemons and oranges. I do not like the smell of lemons or oranges. Never have, never will. However even though I dislike the scent, it does clean very well.
Another thing about the shampoo is it's made of 95% plant deratives. I do not have to worry about what chemicals are going onto my childen and what effects it has on them. Plus while it's doing it's job as a cleaner, it's also helping in prevention of headlice.
The EcoKid conditioner looks just like any other conditioner. With the exception there's no added chemicals to it either. Again, not to keen on the smell, but hey that's just me. It's 97% plant derived. Continue…
Pink & Posh – So since it is safe for my kids and fatal to the little pests that I fear, what could it hurt? I tried the shampoo and conditioner on both of my kids and besides the smell that is a little strong for my taste and the fact I had to be sure to keep it out of their eyes, I was totally satisfied. What was even better is that even if you already have to deal with this problem, they even offer a Lice Bomb that is a 100% naturally derived botanical complex of pure plant oils and essences that aids in the removal of head lice and their eggs. So whether you fear lice (like me) or need a natural and effective way to remove them, Eco.Kid Organics has something for you.Continue…