Drones For Kids
As the holidays get closer, and as drones become more and more popular, your kid might want to own one. As a parent, it's your job to find a model that's safe and fun. We don't recommend investing a lot of money on your child's drone. Instead, buy them something cheap so that they can practice. Then, once they become better with the controls, you can get drones for kids,which a more expensive model. Let's take a look at some models of drones that your kid will love.
#1:  Cheerson CX-10
Image Credit: Dronereview
This is arguably the best drone that you can buy for your child. The Cheerson CX-10 is small, lightweight, fast, and super-fun to fly. It has a flight time of about 4-5 minutes- plenty of time for your kid to enjoy themselves. The best part? It's only about $20 on Amazon. Due to its small size, it can be flown indoors without a problem.
#2:  Cheerson CX-10C (Camera Version)
Image Credit: Firstquadcopter
A close cousin to the CX-10 is the CX-10C. The major difference is that the CX-10C has a camera. In fact, it's the smallest camera drone in the world! You might be thinking that a model like this would cost over $100. But in fact, the CX-10C only costs about $30. This is an amazing bargain, and your kid will definitely have fun with this model.
#3:  Syma X5C
Image Credit: Cameradojo
The Syma X5C is another excellent model that you should look into. The reason it's so great is because, despite it's relatively small size, it's virtually indestructible. Since your kid is going to be doing quite a bit of crashing in the beginning, you want something that can take a beating, and the X5C definitely falls under this category.
#4:  Air Hogs Helix X4
Image Credit: Airhogs
The Air Hogs Helix X4 is by far the most durable model on this list. That's because its propellers are completely surrounded by foam. Because of this, it's almost impossible to break the props during a crash. It's one of the few mid-priced models that can also be flown inside. Plus, it's budget-friendly and easy to fly.
#5:  Estes Proto X
Image Credit: Bigsquidrc
The Estes Proto X is proudly one of the smallest RC quadcopters in the world. It's a super-fun model that can be flown indoors without a problem. We don't recommend flying this drone outside since it doesn't handle itself well in the wind. With that said, when your kid wakes up on Christmas morning, they'll be ecstatic to see this drone in their stocking.
#6:  Eachine H8 Mini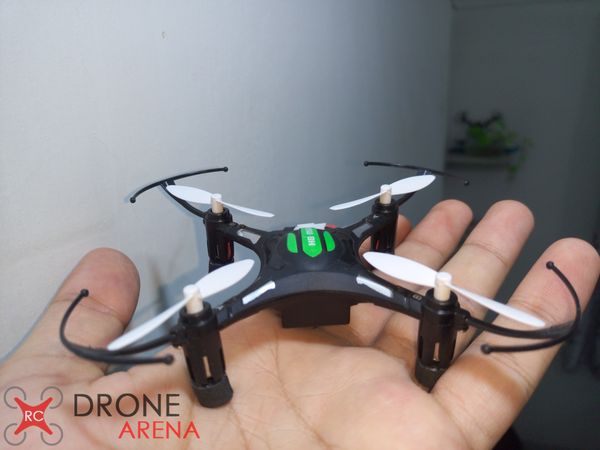 Image Credit: Rcdronearena
What makes the Eachine H8 mini so great for kids is that it comes with a "Return-to-Home" function. Basically, at the push of a button, the drone will automatically return the location where it took off from. Why is this useful? Well, if your kid starts to lose control of their quadcopter, they can simply press this button and they won't lose or crash it.
#7:  UDI U818A
Image Credit: Xheli
Last but not least is the UDI U818A. Similar to the Helix X4, this model has its props completely enclosed. This means that it can take more of a beating compared to other quadcopters. The only downside is that it doesn't fly that good in the wind. So only buy this model for your kid if you live in an area that isn't particularly windy throughout the year.
Conclusion
Overall, there are many great drones for kids fun out there. When shopping, remember to buy something that's easy to fly, affordable, and durable. Kids, like any beginner, are going to crash a lot. So if you buy them something that can take a beating, they'll be able to enjoy their new toy for a lot longer. What about you parents- are there any models that you recommend for other kids?
Save
Save
Save
Save
Save